George Deeb, startup expert and Managing Partner of Red Rocket Ventures, sits down with ASBN to talk about the difference between being a 'vitamin' startup versus a 'painkiller' startup. George says that while a vitamin is nice to have a painkiller is something that people need to have.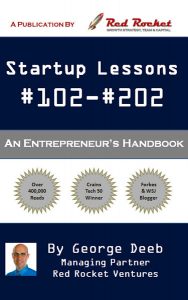 George describes a vitamin startup as just a single piece of the puzzle, a business that simply provides a feature or functionality. While a painkiller startup performs more like a platform that is helping to drive more revenue or improve customer experience. While George wishes that he sees more painkiller startups, and businesses with big platforms and big ideas, he says that entrepreneurs tend to gravitate towards vitamin startups. Furthermore, most of the startup business plans that you see are typically not going to be thinking big enough to become a painkiller.
George advises that in order for businesses to become a painkiller they need to make sure that they develop a business that would be hard to replicate or knockoff. Instead of looking at your product from an internal perspective, look at it from an external perspective. If you were the customer of this product, ask yourself what it would do for you. What pain-point would it solve? Is it going to increase revenue, lower your expenses, or improve your user experience? The bigger impact you can have on your customer the better your business will be at being a painkiller.
However, George also notes that businesses who have the objective of being a vitamin startup, are typically looking to be bought off by a larger company at a later date. George says it's important to know what you're looking for. Are you building a venture capital-backed company, a lifestyle business, or perhaps a company that is simply meant to be an investment return? It all requires entrepreneurs to take a critical, and sometimes tough, look at their business because their business might not be what they think it is.
To learn more about whether or not your business is a vitamin or a painkiller, check out the full interview above. To hear more insight and expertise from George, just out his other interviews here.
---
The Atlanta Small Business Network, from startup to success, we are your go-to resource for small business news, information, resources.

Follow us on Facebook here and stay up to date or catch-up on all our podcasts on demand.
While you're here, don't forget to subscribe to our email newsletter for all the latest business news know-how from Atlanta Small Business Network.
This has been a JBF Business Media production.