ASBN was recently on-location at FinTech South with Paul Brobson, Founder and CEO of Trusted Sale. Trusted Sale is the first ever anti-fraud and anti-scam, peer to peer transaction platform for private party vehicle sales. They work to make private party vehicle transactions safer and more secure for both of the parties involved when selling or purchasing vehicles.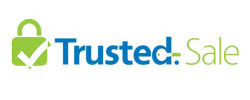 Trusted Sale is an online platform in which users can create a free account on their website that helps them to sell their private vehicle through third-party sites,  without the hassle and worry. Sellers will simply have to verify their identity on the website and give some information about the vehicle, such as odometer level and vehicle images. Once the seller's identity has been verified Trusted Sale will provide them with the ability to push that listing out to all of the available automobile market places, such as CarGurus, Edmunds, and Facebook Market Place.
When someone is interested in buying your listing they will come back through the same service, making sure that it is a trusted sale and verifying the buyer's identity. Alternatively, Trusted Sale can organize the parties to meet at a pre-designated safe zone when they will be able to transact safely and securely with one another. Trusted Sale also offers Cash List Transaction so that all parties don't have to worry about different methods of payment, but can securely transfer funds from the buyer to the seller.
Trusted Sale wants to take the worry away from the user by dealing with the inconvenience of the seller having to list their car for sale, write up a listing that sells, and continuing to refresh or repost their listing. Instead, Trusted Sale will do all this for you, so the seller simply has to list their vehicle once, and then sit back and wait for buyers to come to them.
To find out more about Trusted Sale watch the full interview above or check out their website at www.trusted.sale.
---
The Atlanta Small Business Network, from startup to success, we are your go-to resource for small business news, information, resources.

Follow us on Facebook here and stay up to date or catch-up on all our podcasts on demand.
While you're here, don't forget to subscribe to our email newsletter for all the latest business news know-how from Atlanta Small Business Network.
This has been a JBF Business Media production.