The Atlanta Small Business Network recently visited the Atlanta Tech Village to see for ourselves what this startup hub is all about. Located in the heart of Buckhead, ATV is a technology incubator home to over 100 different startups. We had the pleasure of speaking with some of ATV's key players and understand how they support Atlanta's startup community. In our first segment, we spoke to the Vice President of the village, Karen Houghton. Next up, we had Justin McLeod, Diversity and Inclusion Program Manager and lastly, we talked to Craig Hyde, CEO of Rigor, one of ATV's first and most successful startups.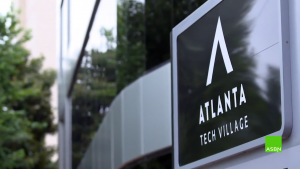 As Vice President, Karen oversees the day-to-day operations for Atlanta Tech Village, which is the fourth-largest tech hub in the entire country. Their mission is to support and inspire entrepreneurs on their quest to change the world through proprietary technology. As Karen puts it, the ATV community is filled with entrepreneurs who are building their dreams, and while one of their goals is to provide a beautiful space, they also provide quicker access to talent, ideas, capital. That's what makes ATV unique and special.
They also have strategic partnerships with Google, Amazon, and Microsoft to name a few, and with those partnerships come mentors and advisors. They also work with local fortune 500 brands like Coca-Cola, and Turner Broadcasting. Their critical objective is to provide startups with everything they need to scale and grow to reach success as quickly as possible.
There is an application process to be accepted into ATV. The team looks at the startup's one-page strategic plan and ensure that they are well educated about the proprietary technology that is being pursued. However, acceptance is not limited to size or development stage. Karen says that the startups can be very early-stage or have seven-figures revenue or funding; the group is very diverse. The only requirements are: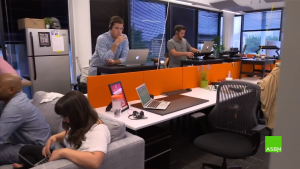 Be a startup
Be headquartered in Atlanta
Create some of your own proprietary technology
Karen sure does work hard to keep ATV at the top of its game. To find out more about ATV's commitment to diversity we turned to Justin McLeod, who discussed the initiatives he oversees to promote inclusion in the entrepreneurial space. 
Justin's entrepreneurial journey began when he was a student at Georgia State University and founded his first company, Event Tent. After raising some capital and entering pitch competitions, Event Tent won a pitch competition at Atlanta Tech Village to become part of their accelerator program. The company then hosted an event called the Shift Pitch Competition, which gave diverse entrepreneurs a chance to win space at ATV. Upon discussing the possibility of starting some more diversity and inclusion programs at ATV with Karen, Justin took on the role of managing these initiatives.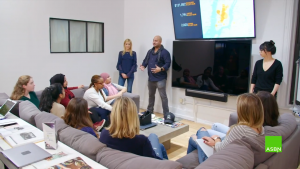 The biggest of these initiatives being the It Takes a Village pre-accelerator program. Justin and his team help diverse startups, lead by women and people of color, by giving them access to resources, a network of capital investors, and education from expert mentors and advisors.
With women and people of color only sharing around two percent of all venture capital funding, there is a large capital disparity in the tech startup scene. Justin says that presents a huge opportunity for programs like It Takes a Village to really help these startups take their businesses to the next level. So far, It Takes a Village has graduated 21 entrepreneurs that have raised over $400,000 in seed investments and generated over $1.8 million in revenue.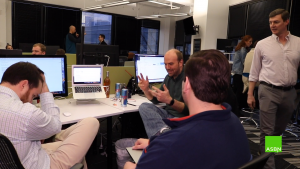 To understand more about Atlanta Tech Village from the perspective of a startup founder we turned to Craig Hyde, CEO of Rigor, as well as a few other founders. We asked them why they choose to house their startups at the village. Stay tuned to find out what they had to say and thanks for joining us today. 
Rigor has been headquartered at Atlanta tech Village since the building opened at the end of 2012. The community aspect of ATV is huge for Craig. This is the first technology company he has founded and built to scale, and with that comes a lot of nuanced challenges. So, being in the same building as other companies going through the same challenges and successes is an incredibly supportive environment.
Also mentioned in this video are, Jean Marie Richardson, CEO of iFOLIO, Wilkinson Egwu, Co-founder and CEO of LawnTap, and Lisa S. Jones, CEO of EyeMail.
For even more interviews with Atlanta Tech Village startups, click here!
---
The Atlanta Small Business Network, from start-up to success, we are your go-to resource for small business news, expert advice, information, and event coverage.
While you're here, don't forget to subscribe to our email newsletter for all the latest business news know-how from Atlanta Small Business Network.