From Upwork freelancers to Uber Drivers, we've seen the gig economy offer many the path to entrepreneurship, flexibility, and growth like never before. Now as many turn their attention to artificial intelligence being used within the workplace, how can businesses best leverage it? On today's The Small Business Show, we're joined by the President of Agents Only, Tyler Ashby, to walk us through the benefits that AI has to offer to gig workers and how businesses can benefit. Tyler has worked with global leaders like Google, where he successfully scaled and managed teams. 
Artificial intelligence
The Gig economy is the new space where small businesses can access highly skilled talent where in the workforce that has gone away, especially in the virtual space. Ashby notes, "The more flexibility for the worker benefits the company because you can utilize an extremely skilled worker for a shortened period of time and get more for your buck due to the quality." Small businesses are relaxing that straining their staff isn't beneficial in the turnover rates. Instead, they are becoming more flexible to retain their current employees.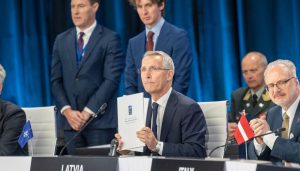 Now with the technological advancements, artificial intelligence is ultimately altering how owners hire. Due to the way, AI matches talent through data and candidates' work history, it's finding better candidates for the company through the way it matches their previous work history and additional data. But AI is also helping companies in terms of development. This implies that small businesses can work with talent, give them access to institutionalized knowledge in a controlled AI-interactive manner, and engage with applicants and new hires more effectively. Furthermore, AI will allow the delegations of repetitive tasks to operate more seamlessly while utilizing your staff for other responsibilities AI should touch. 
The name of the game is now Quantiatum AI, according to Ashby. The larger language models, like ChatGPT, are helping businesses with their creatives, streamlining procedures, and filling out forms for free, but mostly it has become accessible for SMBs. Ashby asserts, "AI can fundamentally assist you in understanding what your customers are doing, how they are feeling, and where your product fails to meet their needs." SMBs can utilize AI to support front-line staff in being more accurate and productive, adhering to the brand's guidelines, ensuring excellent deliveries, and producing results in a simplified procedure.