Advances in technology continue to change consumer demands and business models are having to adapt at an accelerated pace. One industry that is pivoting particularly well is the global health club industry, which according to the IHRSA, saw another strong year of profits in 2018 after generating $87.2 billion. Our next guest, fitness professional Wlaa Weeks, has carved out a piece of this growth and innovation for himself by owning and operating the boutique fitness studio, CYB Atlanta, located in the heart of Buckhead.
Wlaa says his entrepreneurial career began out of a desire to always be motivated. After getting his degree in finance, Wlaa had plans to start at an investment firm, but upon realizing that fitness was his passion, he decided to use his business background to create CYB. Wlaa says this industry keeps him motivated in life and in business, and was a great fit for his entrepreneurial ambition.
For a few years, Wlaa had been training a client that was a big-time CEO. That client turned out to be an interested investor and offered Wlaa the opportunity to go into business for himself and open CYB Atlanta. After securing funding, Wlaa needed a location. Through another client, CYB found prime real estate in the center of Buckhead, a bustling center for urban professionals.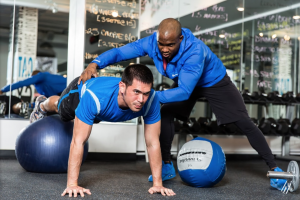 The inspiration for CYB was a simple one. At the studio where Wlaa trained his clients, there was a disconnect between clients and services and well as trainers and pay structure. After identifying these pain points, Wlaa decided to create an environment where a client can have an experience with a trainer that is happier, and also provide the client with services specifically designed to meet their needs.
To learn more about Wlaa Weeks and the CYB Atlanta membership services, be sure to watch our full interview above and check out their website and Instagram.
---
The Atlanta Small Business Network, from start-up to success, we are your go-to resource for small business news, information, resources.

Follow us on Facebook here and stay up to date or catch-up on all our podcasts on demand.
While you're here, don't forget to subscribe to our email newsletter for all the latest business news know-how from Atlanta Small Business Network.
This has been a JBF Business Media production.