Today, we're joined by one of the most sought after speakers and business leaders in the country, Brian Smith. Brian is the founder of the wildly popular clothing and footwear brand UGG, as well as the best-selling author of "The Birth of a Brand."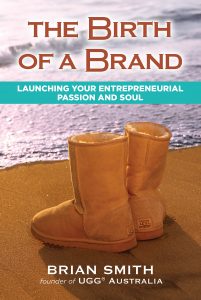 After studying accounting in his native Australia, Brian decided that life in an accounting firm wasn't for him. So, he packed his things and moved to Santa Monica in Southern California to discover the next big thing. Upon arriving in California, Brian went surfing in Malibu around October, just as the weather was starting to turn a bit colder. When he got out of the water, he immediately threw on his trusty sheep-skin boots from back home, and an idea flashed through his brain. Americans had no equivalent to these kinds of boots in the market. In fact, there were barely any sheep-skin products available at all.
In that moment, UGG was born and with barley $1,000 in his pocket, Brian took his product to the surfer market. The first couple of years were a little touch and go. Sales were improving, but not at a fast pace. It wasn't until Brian got a crucial piece of marketing advice that sales went from $10,000 to $200,000 annually. When local surfers were asked what they thought about UGG, they weren't impressed with the advertising message. Surfers couldn't relate to pristine models laying on perfect sandy beaches; they wanted to know that big-time surfers endorsed the boots for practical use. So, Brain shifted his marketing strategy completely and the rest was history.
To find out more about Brian and his journey with UGG, be sure to watch the entire interview above.
---
The Atlanta Small Business Network, from start-up to success, we are your go-to resource for small business news, information, resources.

Follow us on Facebook here and stay up to date or catch-up on all our podcasts on demand.
While you're here, don't forget to subscribe to our email newsletter for all the latest business news know-how from Atlanta Small Business Network.
This has been a JBF Business Media production.