If you have ever heard someone advise you that you need to develop a brand to grow your business, and your response was, "I don't have the time." The steps below are definitely for you.
Now, the person who told you this was right. Creating brand awareness is essential to reaching your target audience. For example, a report by Lucidpress found that brands with consistent branding expect to earn 23 percent more annual revenue than the brands that are inconsistent. Branding also impacts business funding as eighty-two percent of respondents to a Pitchfork survey felt that investors and other key stakeholders want the companies they invest in to have a strong brand.
If you are riding solo, or if you have a small team, you may be wondering where you can find the time to develop and maintain a strong brand.
Fortunately, it doesn't take a lot to develop a brand presence. No entrepreneur has become an expert at branding overnight, and neither will you. Also, this doesn't have to be a daunting experience. There are little ways you and your team can improve your brand's awareness each day.
So, here are five things you can do each day to increase brand awareness and carve out an audience.
1. Choose One or Two Social Media Channels to Engage Your Audience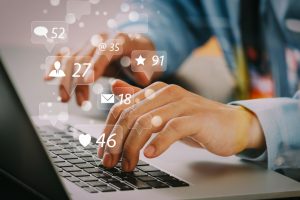 Branding is not just about social media, but they do go hand-in-hand. As a result, you must have a presence. However, you do not need to be on every social media channel. Even if you had the ideal digital marketing team, keeping up with four or even three social media platforms could prove challenging. This action would mean monitoring each platform for mentions, comments, shares, or likes. So, make life easier by only focusing on two (at most) social media channels that you know your target audience is on.
2. Take 10 to 15 Minutes During Each Break to Interact on Social Media
You don't have to spend hours and hours on your social media channels. If you followed the first step on this list, then this entry will be a lot easier. Plan out your breaks for the day, and during each break, make a point to sign on to follow, retweet/share, comment, or like posts. The more engaging you are, the more the algorithms will favor your profile and ensure it comes up in searches related to your profile.
3. Schedule Posts for The Week
Many people are already doing this, so if you are, kudos! If you aren't, that's fine. We are going to discuss why this is worth your time. Again, if you are working alone or have a smaller team, there are ways you can make the branding process much more straightforward. Your target audience wants to hear from you regularly, but you probably don't have time always to post manually. So, take one day and schedule postings for the week. This way, you won't have to look for content each day; instead, you can sign on to interact and engage.
4. Install a Mailing Sign-Up Pop-Up or Embed Form
A great way to increase brand awareness is to get emails from your target audience. Many consumers still check their emails, and it is a surefire way to expose them to personalized product information and relevant content. It allows you to continue introducing them to who you are, and moving them toward the purchasing stage. Again, you can save time here by posting content that directs potential customers to your website. You have two times to get their interest: a carefully-timed pop-up and an embed form on the sidebar. Both can improve your email marketing strategies.
5. Plan a Live Video Each Week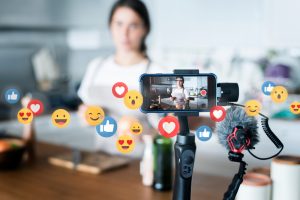 Video has shown to be highly effective in increasing brand awareness and engagement. As a result, you can maximize your reach by taking a few moments each week to stream a live video. The footage could be some "behind the scenes" happenings at your company, a live event, or a tip you have picked up along the way. Use this moment to be authentic. The more you do it, and the more value you add to it, the easier it will be to develop a brand presence.
Creating a Brand Identity is a Collection of Small Steps
Creating brand awareness is all about experimentation and seeing what works and what doesn't.. Don't be discouraged if others are gaining ground. Be transparent, show some creativity, and don't bite off more than you can handle. Developing a brand identity involves a variety of small steps that lead to significant outcomes. So, take the steps above and see how you and your team can fit them into your day. Before you know it, you will have a comprehensive brand strategy that will help you establish awareness with your target audience.
---
The Atlanta Small Business Network, from start-up to success, we are your go-to resource for small business news, information, resources.

Follow us on Facebook here and stay up to date or catch-up on all our podcasts on demand.
While you're here, don't forget to subscribe to our email newsletter for all the latest business news know-how from Atlanta Small Business Network.
This has been a JBF Business Media production.