Supply chain disruptions have been a hot issue for business owners and entrepreneurs nationwide and many have had to adapt. One of the fastest-growing stationery companies in the U.S., Ivory Paper Co. was not exempt as they experienced challenges of their own.
On today's show, we're joined by Alitzah Stinson, Founder of Ivory Paper Co., to talk to us about her journey through entrepreneurship and how her company addressed changes through the pandemic. Ivory Paper Co. has been seen in publications such as Yahoo!, People, and Marie Claire to name a few.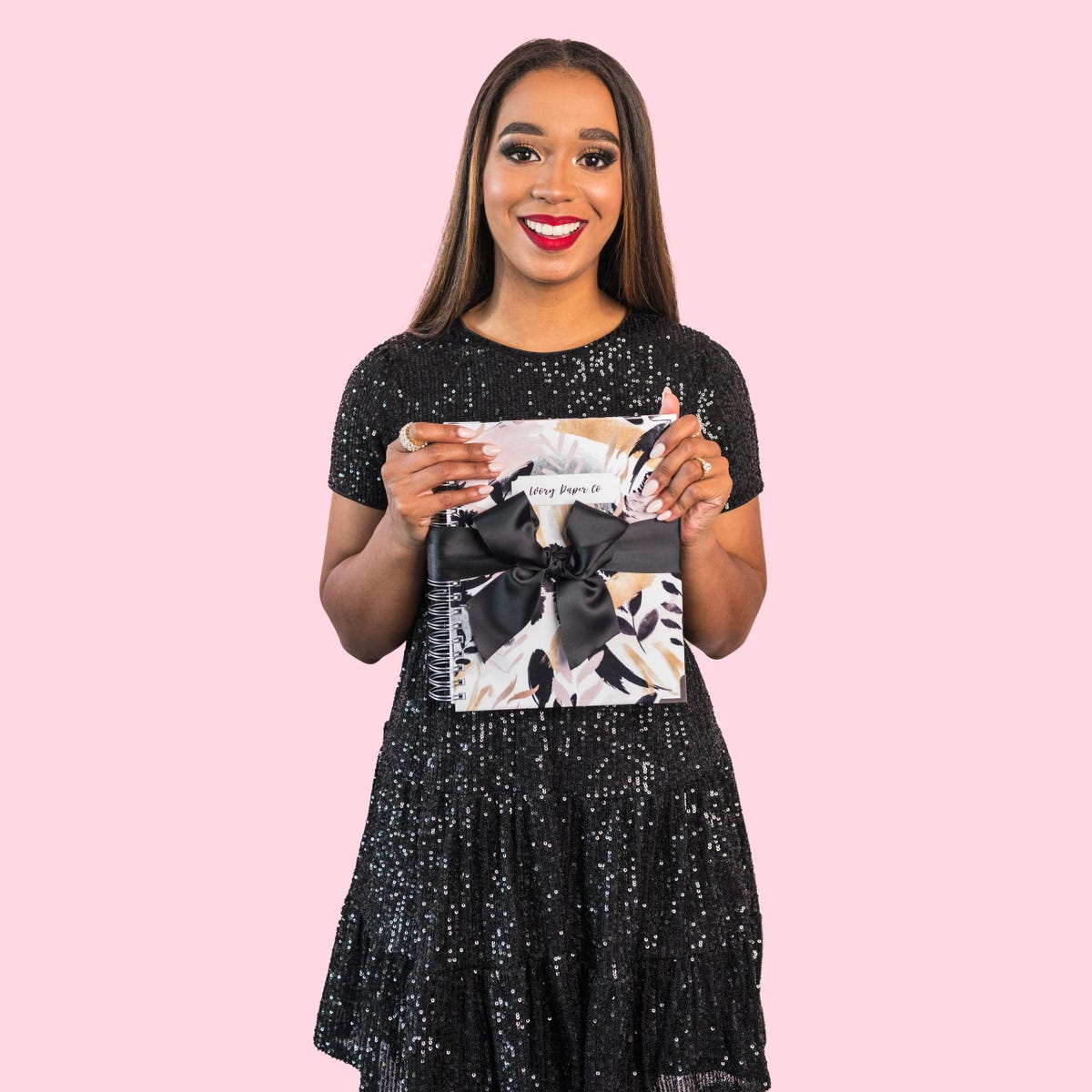 Transcription:
Jim Fitzpatrick:
Thank you so much, Alitzah, for joining us on the show today.
Alitzah Stinson:
Thank you for having me, Jim.
Jim Fitzpatrick:
Sure. We want to hear all about your story. I should add that you have been written up on People Magazine, and Marie Claire, and Yahoo!, and so many other great publications out there that have identified the type of work that you're doing and your entrepreneurial journey, I should say, and the success that you're having. So we're very anxious to talk to you today. Tell us a little bit about your background, your career. And then, what got you prepared for business ownership?
Alitzah Stinson:
Honestly, I don't think anything can truly prepare you for what being a business owner looks like. But before I started Ivory Paper Co., I was working as a content creator. And I started my life, and I just got married. I had a husband. We had our first daughter, Eleanor, and I found myself just really struggling to manage it all, manage working, manage being a new mom. And so I'm a paper person. I had four different planners that I was trying to keep track of my schedule in, and I realized there had to be a better way. And I wanted this planner that had a perfect layout for me to keep everything organized, and I couldn't find it. And that truly is what started me. I was like, "I'm going to make it. If I'm having this issue, and I can't find a planner that works for me, so many other women must be experiencing it as well."
Jim Fitzpatrick:
That is fantastic. And obviously, you did your research, and there's all these huge paper companies and planner companies out there currently, and nobody was hitting the mark. Huh?
Alitzah Stinson:
Yeah.
Jim Fitzpatrick:
That's fantastic.
Alitzah Stinson:
One of the things, I think, that really took it to the next level for me, like I said, was being a mom. And that's why Ivory Paper Co. got its name. My oldest daughter, her name is Eleanor Ivory. And so we named it Ivory Paper Co. because she really was like, "I can't keep track of you, and work, and all of the things." And yeah, there was a lot of research. I feel like… We make all of our products here in the US. And so taking on that manufacturing from the beginning was incredibly daunting, but there's so many great resources out there, and we've had some great partners along the way to help us do that.
Jim Fitzpatrick:
Sure, sure. And are you in business with your husband?
Alitzah Stinson:
Yes. When the pandemic first started, he was furloughed from his job. And we realized, at that point, if we don't… This would be the perfect time to just really try to take Ivory Paper Co. to the next level. And so he started working for Ivory Paper Co. full time in March of 2020. And he's been here ever since. And literally, his desk is right there. He's right next to me right now. We work together daily. It's awesome.
Jim Fitzpatrick:
That is fantastic. There's so many people out there in a very similar situation that you just described, where the pandemic brought on this situation where you're either working from home or maybe you've been furloughed all together, as you know, and that does present, both some issues and some problems, but it also presents a tremendous amount of opportunity. Right?
Alitzah Stinson:
Exactly. Life is always going to throw things your way, and it's what you do and how you take it to the next level. When he lost his job, we had nothing. We weren't able to afford our rent anymore. We got rid of one of our cars. We moved in with my mother with both of our children. And our two children and my husband and I shared an extra bedroom at my mom's house for over a year while we sacrificed and worked tirelessly to make Ivory Paper Co. what it is today.
Jim Fitzpatrick:
That is an incredible story because so many people along the way, there's a lot of people that are listening that are in those shared bedrooms right now, maybe while watching us on their laptop or their desktop or what have you, saying, "That's exactly what I'm going through." But there had to be those times that you said, "Wait a minute. Should the two of us be doing this? Do we have the right vision for the company? Should one of us go out and get a job, a real job as they say?" And so you had to have a lot of those moments, right?
Alitzah Stinson:
I would say that the year when COVID started and we were working and trying to build this business was hands down one of the hardest years of my entire life because you were always doubt. I was constantly filled with self doubt of like, "Am I the right person to do this? Are we doing the right thing?" Because we have kids. We want them to go to good schools. We want them to be in ballet. We want them to have great lives, and you need money to provide that. And at a point where we didn't have any, it was incredibly terrifying, but we were so certain that Ivory Paper Co. could be everything that we dreamed it. We just knew we had to put in the work to get it there. And so we did. We worked as much as we could, as hard as we can, and we still do. We work constantly to make Ivory Paper Co. success.
Jim Fitzpatrick:
Yeah. So many people go in and say, "Well, I don't have the business. I don't have the necessary money or funds to fund a business. I'd love to do something like Alitzah has done and work from her home." Talk to us about that because I think that's an important note there. It sounds like in all of that, you still said, "Let's move ahead. Let's find a way to do this. Let's find the vendors that we need to work with to get maybe the necessary credit so that you can get these built." Right?
Alitzah Stinson:
Yeah. We were in the same boat. My husband, when he was working previously, we were still living paycheck to paycheck. We didn't have savings. We didn't have great credit or family money. And there wasn't anyone who was going to invest at that point in a super small, stationary business when everyone's initial idea was people are using Google Calendar. And just like many people who are starting businesses, we maxed out our credit cards. We used every extra penny we had to pour into this business. It's, what can you get? What can't you get? And it wasn't like we started out with the best equipment. We started out super small. And as customers showed up, as we built out a better product, we were able to improve our processes from there. It's still, even now, we're constantly improving. We don't have big bank loans that finance things. So we have to be able to improve as we get the money to do so.
Jim Fitzpatrick:
Sure, sure. So tell us about your product lineup today. What does that look like?
Alitzah Stinson:
Yeah. So our best selling product is our all-in-one planner. And it's really what started Ivory Paper Co. and set us apart. So our all-in-one planner is a six to eight month planner. And it allows you to choose your start date, but also, you have the ability to plan your months, your weeks, and your day in the same coil, versus having a weekly planner or a monthly planner and keeping them all separate. But Ivory Paper Co., since that first product, we've expanded a lot. We have over 11 other planners. We have notepads, and cards, and greeting cards, and a lot of other stationary products that are all made in our warehouse here in Columbus, Ohio.
Jim Fitzpatrick:
That is fantastic. So is it a subscription-based business, where you sign up, and then from Ivory Paper Co. you're getting deliveries each month?
Alitzah Stinson:
No. Right now, it's really just, you buy your first product. If you love it, you come back. And that's what we've seen our customers. When they start using their planner, just like I did when I created this planner, it works. They love it. They feel more organized. They feel like they're able to accomplish what they're setting out to do each day. And so they come back on their own. There's not a subscription model built into our business currently.
Jim Fitzpatrick:
How did you handle the marketing? How did you get the word out about your great planner? I mean, I know you are very enthused about it and it sounds phenomenal, but how do you get that out across the internet so that you can start driving orders?
Alitzah Stinson:
Yeah. So with my background working in the influencer space, I really understood connecting with people and content. And we've built Ivory Paper Co., less of like a salesy brand when it comes to the marketing, and more so as a personal brand. So if you show up and go onto Ivory Paper Co.'s Instagram accounts, you'll see videos of us making planners, or maybe me and the team are dancing in the warehouse, or just things that are more interesting than just, "Here's the planner. You should buy it." We really try to connect with our audience and, not only post things that are entertaining to them, but talk about things that matter. I openly share what's going on in my life. I share my kids. We really have an amazing community of women who support and follow Ivory Paper Co., and we just focus really hard on connecting with them as our marketing strategy.
Jim Fitzpatrick:
That is fantastic. Where's Paper Co. in five years from now?
Alitzah Stinson:
Honestly, I like to think a little shorter, but we just want to grow. We want to help more women be organized and feel like they can just control of their lives. I feel like that's something that's so empowering. As I look back in my planners from previous years, to see how much growth I've made, even when I haven't felt like I have. So definitely, we want to grow the team. We want to grow our manufacturing capabilities here in the states, and just touch as many women as possible.
Jim Fitzpatrick:
I'm sure that we're going to be following you here at the show. We'd love to have you back on and do a follow-up to see how things are moving along. Your story is so inspiring to so many. Alitzah Stinson. Thank you so much, Alitzah for joining us on the show today.
Alitzah Stinson:
Thank you for having me, Jim.
---
The Atlanta Small Business Network, from start-up to success, we are your go-to resource for small business news, expert advice, information, and event coverage.
While you're here, don't forget to subscribe to our email newsletter for all the latest business news know-how from Atlanta Small Business Network.