As Atlanta's food scene blossoms with help from the BeltLine, Ponce City Market, and other exciting city attractions, a diverse group of chefs have come up with innovative concepts in order to cook on their own terms. One of these chefs turned entrepreneurs is Nick McCormick, the Chef and Owner of CaJa Popcorn, a gourmet popcorn company based right here in Atlanta.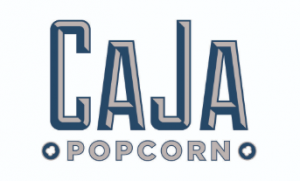 CaJa Popcorn started as a chef-driven, gourmet popcorn company. Nick happened to be one of the chefs that CaJa collaborated with to create unique flavor combinations. When the previous owner of CaJa decided to take his business goals in another direction, Nick stepped in and became the owner and creative developer.
Every aspect of the business felt like a natural fit for Nick and his wife Katie, so they took a leap of faith on CaJa. Although no longer at a brick-and-mortar location, you can place orders online at CaJa's website. What separates CaJa Popcorn from other companies is that the popcorn isn't made until the order comes in. That means a customer won't be receiving stale batches that have been sitting for who knows how long.
In addition to e-commerce, CaJa's business verticals now include gourmet gift basket distribution for businesses both large and small to gift to their clients or employees. Just this past February CaJa produced 600 units for Deloitte. You can also find CaJa Popcorn at State Farm Arena during a Hawks game. Nick also has plans to get CaJa back into a brick-and-mortar location. He says, "It's [popcorn] is one of America's favorite snack foods. It belongs everywhere. Everywhere and anywhere."
While CaJa is making big moves with retailers and events, they're also heavily involved and engaged with the community, something Nick says he is very passionate about. "We definitely want to support the community and give back," he says. The opportunity arose for CaJa to become one of Meals on Wheels' Purposeful Brands. They have developed a custom popcorn flavor for that program, and all the proceeds will benefit Meals on Wheels.
To find out more about Nick and CaJa Popcorn, be sure to watch our full interview above.
---
The Atlanta Small Business Network, from start-up to success, we are your go-to resource for small business news, information, resources.

Follow us on Facebook here and stay up to date or catch-up on all our podcasts on demand.
While you're here, don't forget to subscribe to our email newsletter for all the latest business news know-how from Atlanta Small Business Network.
This has been a JBF Business Media production.