Going into 2023, Atlanta will continue to be a hub of opportunities and growth for startups and small businesses. On today's Atlanta Small Business Show, Titania Jordan, Chief Marketing Officer of Atlanta Tech Village-based Bark, discusses how the company's latest launch is keeping kids safe and connected.
Bark is a smartphone made to evaluate, spot, and notify parents of their child's internet activity. Because artificial intelligence has widely integrated into modern society, Jordan says, "there is a real problem plaguing our kids. From mental health, internet predators, eating disorders, violence, and suicidal ideations". Bark does away with the "we didn't know" defense and continues saving lives. Over the past year, Bark has alerted over 100 parents about potential suicide behaviors.
Because more kids are adjusting to the digital age and now have access to platforms like Youtube earlier, regular smartphones lack efficient protection and growth efforts. However, Bark is the only Samsung A13 smartphone fully functional to support parent and child development.
Bark is a consumer brand that emphasizes accessibility and authenticity. Jordan notes, "we are encouraging parents to carry out their responsibilities, enabling children to become responsible natives, and enabling ourselves to protect our kids online."
Since social media has developed into a free, useful tool for individuals to generate revenue over time, Jordan talks about the motivation behind Bark in terms of her own dogs. "Just like our dogs, they bark when they notice anything suspicious. As a result, our phones "Bark" to alert parents to any strange activities as well. 
Social media is everything. You must "follow the eyeballs" because the majority of the population is using these different platforms. Jordan mentions, her mentor Steve Chamberlin notes, "the media landscape is like a glass globe that breaks and splinters into a million different pieces. Those are the different places you need to be to capture the eyeballs".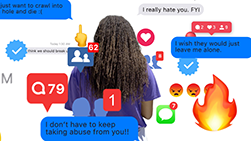 After building a community and brand loyalty, Jordan notes to parents, "you are the product, meaning you need to be in control of technology, don't let technology be in control of you. Ultimately, you must safeguard your personally identifiable information (or PII). Particularly when it comes to setting an example for your child's internet behavior.
---
The Atlanta Small Business Network, from start-up to success, we are your go-to resource for small business news, expert advice, information, and event coverage.
While you're here, don't forget to subscribe to our email newsletter for all the latest business news know-how from Atlanta Small Business Network.