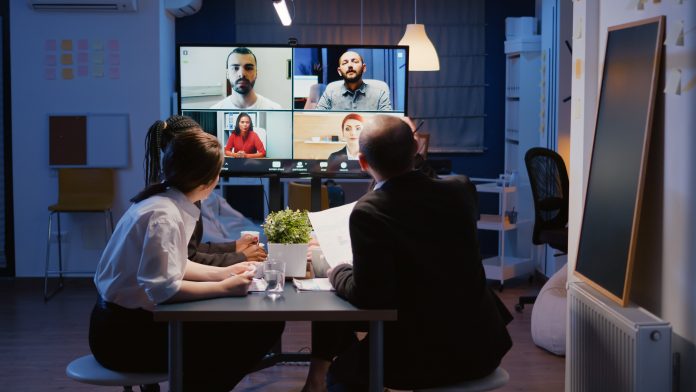 Tensions between businesses and workers over remote work have increased, as large companies adopt different strategies to bring employees back to the office.
Google, one of the nation's largest tech employers, has indicated it will be taking a hardliner stance against remote workers, as it looks to ramp up development of artificial intelligence software. The brand notified employees on Wednesday, June 7 it would be taking extra measures to track whether workers were in compliance with company policies on hybrid work. Google staff members are required to work on location a minimum of three days a week.  In an email to employees, Fiona Cicconi, the web-service platform's chief people officer, said the reason for bringing workers back to the office was because "there's just no substitute for coming together in person," adding, "there's no question that working together in the same room makes a positive difference."
On the other hand, companies like Salesforce have sought to entice office attendance through less aggressive policies. An executive at the software enterprise informed employees that every time they come to work between June 12 and June 23 $10 would be donated to charity. The corporation expects to pay between $1 million and $2.5 million. While it remains to be seen whether this ploy will successfully entice its massive body of employees to come back to the office, the commitment to donate such a large sum underscores the gravity with which Salesforce views its remote-work woes. In December 2022, EO Marc Benioff reportedly noted that recent hires who worked from home provided "much lower productivity."
Other corporations, however, have adopted far more aggressive stances than Google, let alone Salesforce. Farmers Group, one of the nation's largest insurance providers, is facing backlash from employees after suddenly reversing its decision to allow staff members to work from home permanently. Under the new rules, workers will be required to appear in-office three days of a week starting in September. According to company spokesperson Carly Kraft, the revision was part of "a blended approach" which Farmers Group anticipates "will allow us to continue offering the flexibility that we all value while reaping the benefits of the office environment."
Remote work remains an especially divisive topic. Employees overwhelmingly support hybrid and work-from-home policies, while managers and employers are almost universally against them. Labor disputes have a long and complex history in the U.S., although stories of bloodshed between workers and corporations are thankfully less abundant in 2023 than they were in the previous century. However, while major companies are turning to a strange mix of punishments, threats, and rewards, it seems unlikely that offices will ever be as full as they were pre-pandemic.