Customers connect with businesses using an average of nine touchpoints, with 60% of those interactions occurring online, according to Salesforce. To embrace a digital-first approach, businesses are expanding the number of their digital channels. Today on the Atlanta Small Business Show, we're joined again by Tiffani Bova, Global Customer Growth and Innovation Evangelist for Salesforce and best-selling author, to discuss the fifth edition of the Salesforce State of Service report.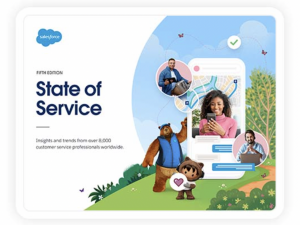 Transcription:
Jim Fitzpatrick:
Tiffani, thank you so much for joining us on the show once again.
Tiffani Bova:
Oh, thank you for having me, Jim. Thrilled to be here.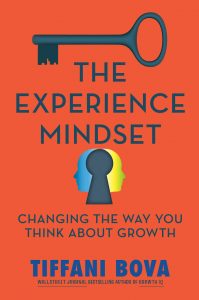 Jim Fitzpatrick:
Sure. Tell us briefly about the research and what it covers.
Tiffani Bova:
Sure. This is our fifth edition of the State of Service. We actually went out to over 8,000 service professionals around the world to talk about and learn more about what's happening in customer service, in call centers, in field service, which obviously is of big interest for many companies around the world. After you sell something, you have to service it.
Jim Fitzpatrick:
That's right.
Tiffani Bova:
The insights were really telling as well as things that companies can plan for next year.
Jim Fitzpatrick:
Yeah, for sure. And especially coming through COVID, it was really just a crazy situation out there. I know a number of companies, large and small, were really challenged in this area of customer service, weren't they?
Tiffani Bova:
They absolutely were. It was actually one of the top areas we saw, especially in the small business space, accelerated investment. We saw over the two-and-a-half years of the pandemic investments in digital transformation that we hadn't seen in a decade, and especially-
Jim Fitzpatrick:
Right. Yeah, it accelerated it.
Tiffani Bova:
… It accelerated it especially in small because look, the challenge is where do I spend my dollar? Do I hire an additional person to work at my company? Do I invest in technology? Do I remodel my storefront? Do I invest in warehousing? I mean, there's so many places that small businesses have to choose from on where to invest, and I think that the pandemic showed the importance of the need for technology to help businesses actually scale.
Jim Fitzpatrick:
That's right, and customer service has really changed so much over the last few years, hasn't it? Small businesses are trying to keep up. Obviously, they don't want to lose any customers or clients that they have, so they feel as they've got to really deliver more in the area of customer service, while at the same time maybe even doing it or trying to do it with less staff or less people, right? That's a real conundrum that they're in, right?
Tiffani Bova:
Yeah. Well, 88% of customers now say experience and product are equally important, and so as a small business, you can't just think about selling once, and walking away, we have to ensure that we're wrapping whatever product or service you're selling with the kinds of post-sales support that they may need, like how to set something up, something's not working, they need a return, or they need a replacement, or even they have questions about how to use whatever it is you've sold. I think what's important is not to just think about spending money on the acquisition of a new customer, but thinking about it holistically to say, "Look, once I acquire them, it's less expensive for me to sell more to them more frequently or additional products and services I may have," so once you get them, really it's all about what do you do at that point to ensure that they not only stay with you and stay loyal, but they buy more.
Jim Fitzpatrick:
That's right. Oh, so true, so true. We have a tendency to think well just spend more in advertising for that conquest customer and try to grab them away from our competition. But at the end of the day, you're right, you can sell so much more to those people that you've already sold and built a relationship with. I think a lot of business owners have a tendency to maybe forget about that, right? It's a big mistake.
Tiffani Bova:
Yeah, and in this survey, we found that 94% of customers said a positive experience makes them more likely to repurchase, so it's sort of like, what did you do for me lately kind of a thing, but if you are consistent in service, if you do have a situation where there's a hiccup, right, there's a longer-than-usual hold time or something happens on the service itself, customers are much more forgiving if they know your intention is always to deliver great service, and so if you've consistently delivered great service, and then they have one bad experience, they're less likely to say, "Oh, that's it, I'm out." But in some industries, the bar to switching is too high, like banking or healthcare, it's too hard to switch quickly if you have a bad experience, and so really thinking about service in its totality goes a long way for you to be able to engender that loyalty over the long term.
Jim Fitzpatrick:
Sure. Are there other key findings that jumped out at you?
Tiffani Bova:
Yeah, one in particular. Often when I meet with small business owners as well as large enterprises, I ask this one question: When you think about service, do you look at it as a cost center or do you look at it as a revenue generation engine? Meaning do you say, "Okay, how many calls do we get? How many heads do we have to put in seats? How long can they be on a call, right? It's very much a spreadsheet exercise, and it's very cost-driven, versus saying, "Hold on a second," and maybe looking at the Zappos model, which is customer success and making sure that every interaction is positive and the agents are enabled and empowered to serve the customer, whether it takes two minutes, 10, 20, or two hours. Really, they actually have the record of having an 11-hour customer service call, literally.
Jim Fitzpatrick:
Oh, my God. Oh, jeez.
Tiffani Bova:
Yeah. Obviously, it wasn't just servicing, it was a bride, actually, who was nervous about her shoes not making it. It's for another day.
Jim Fitzpatrick:
You would think that a bride would have more to worry about in those 11 hours, right?
Tiffani Bova:
Than the shoes. I don't know. Maybe not, right? But if you think about it as a way to generate more revenue, right, upsell, cross-sell, really leaning into leading with experience, and then that example we gave of, if you consistently give a great experience, even if we just go back to the Zappos example, I know they're large now, but they started out very small. If you think about it, they were selling shoes, not their own shoes, everybody else's shoes, and so if you don't think about how do I compete differently and how do I outthink my competition service and thinking about as a revenue-generation engine is a great way to change the mindset away from it being a cost center to really being a way to connect with your customers.
Jim Fitzpatrick:
Sure, sure. Do you think through COVID customers now expect more from the customer service department or less? I mean, somebody that I had on the show recently said that through COVID, consumers were very forgiving of maybe a little bit longer wait time, or maybe somebody that would come on, and didn't really have all of the answers because everybody's going through COVID. Has that still remained where people are a little bit more forgiving? Or is it now, hey, now that that's pretty much in our rear-view mirror, we want this customer service to be stellar.
Tiffani Bova:
Yeah, 80-plus percent of customers expect to interact with someone immediately, and "immediately," is sort of loose, right? Is that within two minutes or five minutes, but immediately, and then almost 80% expect companies to understand their unique needs. I would say to you that we talked about at the beginning, this sort of digital acceleration. Some of this service doesn't have to be human, right? We've seen a lot of investments in bots. We've seen a lot of investment in FAQs on websites, and so ultimately, customers don't necessarily only want the phone. We found that the phone was for complex issues where they needed to have a conversation, but self-service is much more expedient, right, saying, "I want to be speak to someone immediately." A bot is a way to make that immediate connection.
Then if it needs to be escalated to a human, it can be, and so this isn't, I don't want small businesses to hear, "Wow, I have to invest in people and technology and all this is too much for me." Really, tech can capture a good percentage of the kinds of things you need to do. But to your point, Jim, this is about the expectations have increased and those companies that haven't made those investments now people know they haven't been made, and so they say, "What, are we not important enough for you to make the necessary investments to continue to serve me in the mobile app?" Whether it be a bot, whether it be an FAQ, whether it be in social, right, whether it be a phone call, all of a sudden it's just gotten much more complex.
Jim Fitzpatrick:
That's right, that's right. Small businesses, I'm sure you would agree, should survey their customers, right, and ask them, "How are we treating you from your perspective, Mr. and Mrs. Customer? Let me know what the feedback is," right? I think all too often, many small business owners especially think that their service is great or that their staff, or their employees are doing a wonderful job, and therefore, we don't really need surveys, or we don't need the feedback from a consumer other than maybe at the checkout, "How did we take care of you?" "Oh, it was great," but then they walk outside and they go, "I'm never going there again." It's interesting what people will do either in online surveys when they don't have to put their name there, or what have you. What is your take on that? Is that an important factor that small businesses should look at, and that is to survey their customers?
Tiffani Bova:
I'm a firm believer in surveying both customer and employee, but I have a huge asterisk caveat.
Jim Fitzpatrick:
Hmm. Great point.
Tiffani Bova:
Don't just survey and then say, "I checked the box. I surveyed." Our score went up or down.
Jim Fitzpatrick:
We did nothing with the data.
Tiffani Bova:
We did nothing with the data. We just did some other research outside of this State of Service that found, especially on the employees side, that a lot of that employee data that's captured that they don't know what to do with it, and that no one is actually responsible for looking at the data, then engaging potentially with employees to say, "Look, we heard this," or, "Customer, we heard this," and then action it. What ends up happening is if you survey and then you do nothing with it, it doesn't foster this. Oh, they ask me, they listen, they action.
Now, it's not possible for companies to do everything customers ask, right? You'll start chasing the mice. But you should start to see patterns, and so only survey if you're willing to look at them, engage, and then action fixes. They know much sooner than you do when something is wrong in the experience. They know things much sooner than you do sometimes on if products are good or bad, if the packaging is good, if the shipping return policy and processes are good. Your employees and customers know way before usually the executives do because executives are too far away. Even if you're a small business, you're too far away from all the customer interactions, you're not having them anymore, so I am a firm believer in surveying only, only if you are willing to look into that data, engage to find out more, and then action fixes where necessary.
Jim Fitzpatrick:
That is so true. No question about it. For the business owners that are listening to you have this conversation with me today, what would you like them to focus on specifically? What areas for the balance of this year to close out the year strong, what are some of the areas that maybe keep you up at night, that go if small businesses, don't focus on X, Y, and Z, we might be in trouble here?
Tiffani Bova:
This is more of a philosophical answer, and then I'll answer the question. But philosophically, whenever I meet with small business owners, look, they're inspiring. Entrepreneurs are the backbone of so many cities and counties around the globe.
Jim Fitzpatrick:
Sure.
Tiffani Bova:
Especially in the US, 98% of people are employed by small businesses, so they are the backbone. But because we're running so hard and fast to run the business, we sometimes don't take that pause every day to actually look at the business from the outside in, right, having those conversations, and so I would challenge each of you to take a half an hour, 45 minutes, an hour every single day to do those things, talk to employee, talk to a customer, get out of the office, and it may be your four walls, might be a Zoom meeting, but get out of the spreadsheet, get out of the mechanics of running the business, and get into the personal engagement. You will find out things that will help shape 2023 and beyond. Now, that's the first philosophical answer, if you will.
But on the business side, this is about resilience. Look, we're very uncertain end of this year. Recession, no recession, what's going to happen? Cost, inflation, salary, keeping talent, losing talent. There is so much happening simultaneously, and a lot of that is being driven by the fact that we haven't been paying attention to the personal soft stuff along the way, right? Resilience is really important. That means we have to make sure we harden the technology being used, we're empowering our employees to do their job, and keep them satisfied and engaged. What are the things we can do to lower the effort for our employees and our customers to do business with us? How can you really raise the brand into the conversation where you want to be? What is the brand promise? What are the things you're doing for the community, that purpose over profit? There's lots I've just tossed at you, but those are the things that require you to take that hour every day, or at least a day once a month, where if you left the business with the business still run so that you can step outside and think about the future, especially as a business owner and entrepreneur.
Jim Fitzpatrick:
That's exactly right. Bringing the good stuff. Tiffani Bova, Global Customer Growth and Innovation Evangelist, which I love that title with Salesforce. Also, a Wall Street Journal, bestselling author, and a phenomenal speaker because I've seen her speak, I can say that. Thank you, Tiffani, so much for joining us on the show. We very much appreciate. I'd love to have you back to cover more of these types of issues that help small business owners and entrepreneurs. Thank you.
Tiffani Bova:
Anytime, anytime.
Jim Fitzpatrick:
Great, thanks.
---
The Atlanta Small Business Network, from start-up to success, we are your go-to resource for small business news, expert advice, information, and event coverage.
While you're here, don't forget to subscribe to our email newsletter for all the latest business news know-how from Atlanta Small Business Network.