Recently, the ASBN team was on-location at the U.S. Chamber of Commerce's Small Business Series: Atlanta, where we had the opportunity to speak to several of Atlanta's rising star entrepreneurs. One of these entrepreneurs was Beau Shell. Dubbed "the Lil' Ice Cream Dude", Beau owns and operates his own ice cream cart, and is the youngest person ever to become a member of the Athens Area Chamber of Commerce.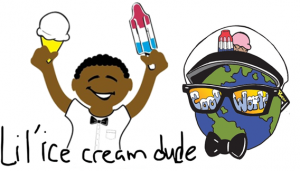 Beau began his business in 2012 when he asked his mother for an ice cream cart for his eighth birthday. By selling his personally selected ice cream, popsicles, and Italian ice, Beau has worked hard to grow his business to its current success. Now at the age of 15, Beau's business has continued to expand. His business now consists of two trailers, eight ice cream carts, and several part-time employees in addition to his brand new ice cream shop which celebrated its grand opening on June ninth. His shop is located on the East Side of Athens, Goergia and although Beau does not currently make his own ice cream he says he hopes the opening of his new shop is the first step to that.
For now, Beau continues to grow his business while doing his best to juggle school as well. But Beau says that none of his success would be possible without the help he's received from his family, friends, and generous donations from those supporting him and his ever-expanding business.
To hear more about Beau's story watch the full interview above, or check out his website at www.lilicecreamdude.com.
---
The Atlanta Small Business Network, from startup to success, we are your go-to resource for small business news, information, resources.

Follow us on Facebook here and stay up to date or catch-up on all our podcasts on demand.
While you're here, don't forget to subscribe to our email newsletter for all the latest business news know-how from Atlanta Small Business Network.
This has been a JBF Business Media production.