It's no secret that Atlanta's tech scene has undergone some huge changes in the last few years. With easy access to prominent tech centers and an affordable cost of living, it's no surprise that the top talent from local universities like Georgia Tech and Emory are choosing to call Atlanta home, just like our next guest did more than 20 years ago.
Today we speak to Atlanta tech veteran, Jacqui Chew. Jacqui is the founder and former managing director at iFusion Marketing as well as the principal organizer and licensee for TEDxAtlanta.
Jacqui has always been a startup aficionado and is still drawn the to entrepreneurial energy and spirit. Having been in Atlanta since 1997, Jacqui fell into the tech sphere when she had to cover for a co-worker's sabbatical and manage a high-profile client's web filtering app launch. It has been full speed ahead ever since.
She then founded the first fractional CMO consultancy called iFusion in 2006. She credits John Imlay, Dun & Bradstreet and Chris Klaus for laying the foundation of innovative tech in Atlanta. They really paved the way for the tech boom that we've been seeing for the last 10 or so years.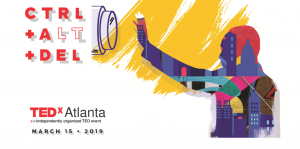 When asked how Jacqui achieves her goals and aspirations, she says her success is due to tenacity, perseverance, and a little bit of crazy. SHe explains, "I think a true entrepreneur is someone who can learn from [failiures] and has the tenacity, wherewithal, and resilience to overcome both financially and emotionally."
After being the licensee of TEDxPeachtree for around 9 years, Jacqui merged the organization with TEDxAtlanta and became the chapters lead organizer and license holder. A position which inspires her daily, "TEDx is about ideas worth sharing and community." The next TEDxAtlanta show on March 15th will mark the 10th anniversary of TEDx in the Atlanta Metro area, and Jacqui says there will be a lot of exciting surprises in addition to the wonderful speakers and organizations that will be participating, including:
Ayoka Chenzira – Division Chair for the Arts at Spelman College
Paul Wolpe – Professor in the Departments of Medicine, Pediatrics, Psychiatry, and Sociology, and the Director of the Center for Ethics at Emory University
Atlanta Music Project – Born in 2009 at the first TEDxPeachtree conference
You can find out more about the upcoming TEDxAtlanta conference and purchase tickets here.
As for entrepreneurial advice, Jacqui offers us this insight: Don't take yourself too seriously.
---
The Atlanta Small Business Network, from start-up to success, we are your go-to resource for small business news, information, resources.

Follow us on Facebook here and stay up to date or catch-up on all our podcasts on demand.
While you're here, don't forget to subscribe to our email newsletter for all the latest business news know-how from Atlanta Small Business Network.
This has been a JBF Business Media production.