If you're a first-time entrepreneur, you might think of company branding as a logo, website, or product packaging. Others think of branding as a slogan or mantra, and while all of these are important marketing tools, they're just the tip of the iceberg.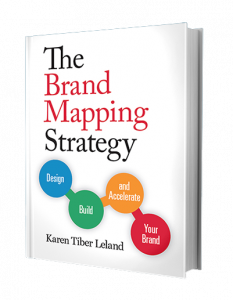 Here to give us a comprehensive look inside building your business's brand strategy is Karen Leland, president of Sterling Marketing Group, branding expert, and best-selling author of nine business books. Karen has worked in over 50 countries with clients like Apple, Google, and AT&T and has been featured on CNN, Bloomberg, and Oprah.
In Karen's latest book, "Brand Mapping Strategy: Design, Build, and Accelerate Your Brand", she dispenses all of her branding research and information collected over the past 10 years. This includes the Seven Core Elements of a Powerful Business, Team, and Personal Brand which include:
Anchor Statement: What's your pitch?
Unique Branding Proposition: What sets you apart from the competition?
Brand Tone and Temperament: How do you want to convey your products or services?
Brand Energy: What's the feeling or mood of your brand?
Signature Story: What's the story that got you to where you are?
Signature Services: What are the services or products that make up the core of your business?
Brand Enhancers and Reducers: What is your tactical strategy?

Brand identity is the physical design elements that represent what brand consistency. Really think through your color scheme and website design. Colors have a psychological communication to them; whatever colors you pick and how you choose to present them will subconsciously give a message for the brand.
Your business needs to be on the social media platforms that make sense for your brand. Pick one or two that are hubs for where your audience and industry consume the most information. Most people are so worried about missing out on the latest social media platform, that they neglect to focus their energy on the forums that really matter, and it produces nothing.
---
The Atlanta Small Business Network, from start-up to success, we are your go-to resource for small business news, expert advice, information, and event coverage.

Follow us on Facebook here and stay up to date or catch-up on all our podcasts on demand.
While you're here, don't forget to subscribe to our email newsletter for all the latest business news know-how from Atlanta Small Business Network.
This has been a JBF Business Media production.