Want your business featured on The Atlanta Small Business Show? Tell us your story! And if you would like to advertise with ASBN, give us a call at 770-954-8609 or email us at sales@myasbn.com
On this week's episode of The Atlanta Small Business Show, we kick things off with Jared Erickson, co-founder of Brother Moto. He discusses how Atlanta's only DIY motorcycle shop offers something for everyone in the community. We then hear from Brad Stulberg, who talks about the importance of not letting passion for your business, cloud your judgment. Following that is a portion of the Atlanta Small Business Profile featuring Scott Monge, CEO of Monge & Associates, one of Atlanta's top personal injury law firms. Next, we take a look at an episode of Hard Truths with Dave Anderson, all about how to get, and stay, in the 'zone.' We wrap things up with CEO of CIA Media Group, Montina Portis and guest host Mark Collier, who discuss savvy video marketing strategies for small businesses. Be sure to tune into this week's show!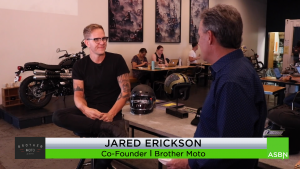 Meet Brother Moto: The Motorcycle Lifestyle Shop That Offers Something For Everyone – Jared Erickson, Co-Founder
Whether you need a place to work on your motorcycle, grab a coffee, or you just want a cool shared space to hang out at, then you have to check out Brother Moto in the Atlanta neighborhood of Cabbagetown. Recently, we had the opportunity to sit down with Brother Moto's co-founder, Jared Erickson, to discuss the inspiration behind the city's only DIY Motorcycle Garage and how it's bringing the community together. Watch Now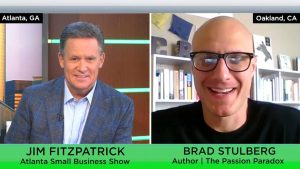 How Passion Can Either Hurt or Help Your Entrepreneurial Ventures – Brad Stulberg, Author of The Passion Paradox
Every entrepreneur is passionate about their vision, but what happens when passion clouds judgment and causes business owners to make poor decisions? To find out, we recently spoke to Brad Stulberg, Health, and Human Performance expert and Co-author of 'The Passion Paradox: A Guide to Going All In, Finding Success, and Discovering the Benefits of an Unbalanced Life'. Brad's clients include entrepreneurs, executives, and leaders from many industries. He is also a regular contributor for The New York Times, Sports Illustrated, and Forbes. Watch Now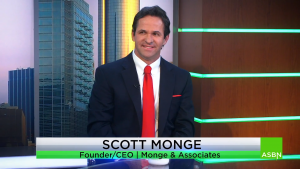 Atlanta Small Business Profile – Scott Monge, Monge & Associates
On this week's episode of the Atlanta Small Business Profile, our host Ted Jenkin speaks with the Founder and CEO of Monge & Associates, Scott Monge. If you've ever wondered who to call if you get hurt on the job or injured in a car accident, then look no further than Monge & Associates. This personal injury firm has been in business for over 25 years, and now has a dozen offices across the country. Today, we find out how Scott got started in this industry and how he continues to grow and expand the firm. Watch Now
Hard Truths: Getting (And Staying) In The Zone
We all have a "zone" in the workplace, a temporary state of heightened focus that enables peak performance. On this week's episode of Hard Truths, Dave Anderson talks about getting in the zone and staying there. Watch Now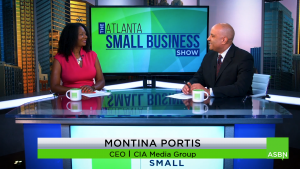 Boost Your Customer Engagement and Conversions with These Video Marketing Strategies – Montina Portis, CIA Media Group
Marketing is often talked about in the small business world, and the scope of what marketing is seems to be ever-expanding. Savvy marketing companies are always looking for a way to rise above the noise. One of the best ways to accomplish that is to concentrate on and dominate a particular niche. The old adage is true, the riches are in the niches. Video marketing is an emerging trend and a proven way to communicate a compelling marketing message. On today's show, our guest host, Mark Collier, sits down with Montina Portis CEO of CIA Media Group to find out more. Watch Now
---
The Atlanta Small Business Network, from start-up to success, we are your go-to resource for small business news, information, resources.

Follow us on Facebook here and stay up to date or catch-up on all our podcasts on demand.
While you're here, don't forget to subscribe to our email newsletter for all the latest business news know-how from Atlanta Small Business Network.
This has been a JBF Business Media production.