As an entrepreneur, you have numerous business relationships to manage on a daily basis. They could be employees, vendors, or clients, and you need to figure out ways to maintain your influence and operate with courtesy and compassion. Here to tell us more about influence and why it is much more than just a business negotiation, is Bob Burg, world-renowned sales trainer, popular podcast host, and Wall Street Journal best-selling co-author of the "Go-Giver" series.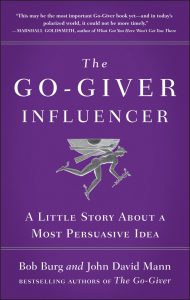 Influence in its most basic form is the ability to move a person towards a desired action, typically in the context of a specific goal. However, the essence of influence is 'pull' as opposed to 'push'. Great influencers don't push others, they pull them in. To have that kind of pull or influence, you must shift from an 'I' or 'me' focus to a focus on the other person. You have to consider how your request operates within their own goals and desires. This means, that you must first discover what their desires are.
In Bob's latest book, "The Go-Giver: Influencer", her provides the five secrets of Genuine Influence:
Master Your Emotions: Only when you are in full control of your emotions can you then turn potentially negative situations into positive outcomes.
Step into the Other Person's Shoes: You never know what other people are thinking. This means that listening is absolutely essential.
Set the Frame: A frame is the foundation from which everything else takes place.
Communicate with Tact and Empathy: This creates openness with your business counterpart that may not have been there before. It's crucial to use tact to gently suggest an idea that might otherwise be disregarded.
Let Go of Having to be Right: Let go of the emotional attachment of having to be right, and listen to the other person's perspective.
To find out more about Bob's Go-Giver Podcast Series and the 2019 OutBound Sales Conference, be sure to watch our full interview above.
---
The Atlanta Small Business Network, from start-up to success, we are your go-to resource for small business news, information, resources.

Follow us on Facebook here and stay up to date or catch-up on all our podcasts on demand.
While you're here, don't forget to subscribe to our email newsletter for all the latest business news know-how from Atlanta Small Business Network.
This has been a JBF Business Media production.