Whether you are an entrepreneur just getting started or a founder with years of experience, chances are you've heard of customer journey mapping. This powerful tool can help business owners visually navigate their customer experiences and better understand their clients' behaviors and actions. While the idea of creating and using a customer journey map can be intimidating, our next guest is here to tell us why it shouldn't be. We're pleased to welcome back Shep Hyken, customer experience expert and New York Times Best-Selling author of "The Amazement Revolution".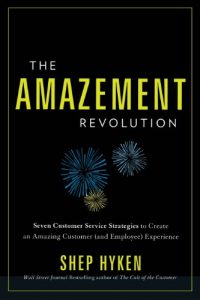 It doesn't matter what type of business you own, there is a journey that every customer takes. It begins the moment they start shopping for your product or service, whether it be online or in-person. Shep first discusses the essential components that should be included in the visual representation of the map, and how that reflects your business's overall customer experience strategy.
Customer journey maps change also change depending on whether your business operates primarily B2B or B2C. In fact, Shep says that your business should have multiple maps for various customers. First-time customers will have a very different journey than a return customer for example. Lastly, Shep and Jim discuss how often businesses should be reviewing and altering their maps.
To find out more about Shep and customer journey mapping, be sure to watch our entire interview above. To get more insight into Shep's customer experience expertise, check out his previous appearances on ASBN, here.
---
The Atlanta Small Business Network, from start-up to success, we are your go-to resource for small business news, information, resources.
Follow us on Facebook here and stay up to date or catch-up on all our podcasts on demand.
While you're here, don't forget to subscribe to our email newsletter for all the latest business news know-how from Atlanta Small Business Network.
This has been a JBF Business Media production.