Customer satisfaction is what makes or breaks any business. If your customers are happy, they return again and again and recommend you to others. But if they are not happy, they vote with their feet by staying away, and with their tongues by telling everyone else how unhappy they are. And in the age of social media, word of mouth goes farther and sticks around longer than it used to.
Customer relations must be your number one priority with your business. It should inform every action you take, and form the centerpiece of training and evaluation of your employees.
Here are the key principles to practice to keep your customers satisfied: 
1. Remember That There are Real Human Beings on Both Sides of the Transaction
It can be easy to become too focused on numbers and goals. You come to see making a sale as a step to meeting a quota, not providing service to a person. So, the first step to great customer service is to always remind yourself that you are dealing with humans, not spreadsheets.
Toss out scripts and formulas. No matter how smoothly you use them, customers can sense it, and it puts a wall between you and them. 
Make sure your customers can see and hear that you are happy to hear from them. Smile and make them welcome if you are dealing with them in person, and smile when you speak to them on the phone. It comes out in the voice and they pick up on it.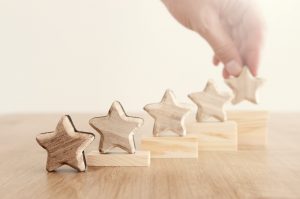 Take care of yourself and your team members as well. Some customers are difficult and hostile, sometimes for unfair reasons. If you or another employee has a hard time with a particular customer, take a few minutes to relax and decompress afterward. Let employees vent and then discuss strategies for handling a similar situation next time.
2. Serving is the Center of Impeccable Customer Service
If you have ever watched Downton Abbey, you can see what is expected of the servants. They are smooth, efficient, anticipate needs, and unfailingly polite. No matter what turmoil is going on behind the scenes, and no matter how they feel about those they serve, they deliver. For characters like Carson, the butler, service is not demeaning but a point of pride.
You have to serve your customers in a similar manner, not in a cringing or humiliating way, but in making them feel like their needs are your top priority. Never brush them off or give a runaround of sending them from point to point to get what they need. If you have to hand them over to someone else, bring them to that person yourself, and explain what is needed.
Always be courteous, and thank your customer for their business, even if they only bring in a few dollars in a transaction. Any customer may be the one who brings you a big sale later or refers you to a high-paying client down the road.
Keep your commitments. If you say you are going to do something, follow through. But make realistic promises, so "under-promise and over-deliver." Be honest about what you can and cannot do. If you can't meet a tight deadline, better to disappoint the client upfront by declining a contract than to anger them later by failing them.
3. Listen to Your Customers
Whether it's good or bad, pay attention to what your customers tell you. Some may be wrong but need to rant anyway. Don't take it personally, and keep responding in a professional and sympathetic manner.
Others have a real issue and need to know that someone actually cares. Let them speak without interrupting, and ask questions to clarify their need or problem. If they have suggestions on how to change or fix something they are unhappy with, hear them out, and act on their advice if it is valid.
Ask for feedback from your customers, and pay attention to the answers. You can do this informally in conversation, as well as formally through surveys or questionnaires. They are the best source of information to help you improve your service and your business reputation.
4. Follow the Same Rules in Customer Relationships as You Do in Personal Relationships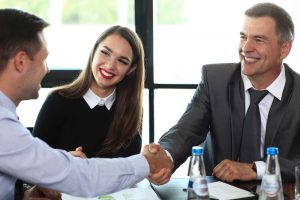 Customer relationships are real relationships just as your personal relationships with family and friends are, and they thrive when you follow the same rules for nurturing and growing them.
In your personal relationships, you let people know that you care about them and that they are a priority. Do the same with your customers. Anticipate needs and take the extra steps to meet them. Make every customer feel like they are the most important.
When you make a mistake, admit it and apologize. When customers communicate with you, answer them quickly. Any inquiry should be answered within one working day, and the same day if possible.
Just as people in your personal life love to hear that you think of them and appreciate them, so do customers. Send thank-you notes for business, or follow up notes after resolving a complaint. If a new product comes in that you are sure a particular customer will love, drop them an email and let them know. 
No business will last long without satisfied customers. Learning how to treat people well and training your employees to do the same will produce happy clients who will gladly spread the word about you. The time and energy you invest will pay off with your bottom line.
---
The Atlanta Small Business Network, from start-up to success, we are your go-to resource for small business news, information, resources.
Follow us on Facebook here and stay up to date or catch-up on all our podcasts on demand.
While you're here, don't forget to subscribe to our email newsletter for all the latest business news know-how from Atlanta Small Business Network.
This has been a JBF Business Media production.