Want your business featured on The Atlanta Small Business Show? Tell us your story! And if you would like to advertise with ASBN, give us a call at 770-954-8609 or email us at sales@myasbn.com
Happy weekend Atlanta! We hope that you and your loved ones had a wonderful Thanksgiving Holiday. On this week's episode of The Atlanta Small Business Show, we kick things off with Ann-Carol Pence and Anthony Rodriguez, Co-founders of The Aurora Theatre in Lawrenceville. The pair discuss the Aurora's history and their big plans for expansion. We then hear from Crista Samaras, Founder and CEO of Brave Enterprises, who talks about how she motivates entrepreneurs to face their personal and professional fears. Following that is our conversation with Joseph Michelli, who discusses his latest best-selling release, "The Airbnb Way." Next up, is a portion of the Atlanta Small Business Profile featuring Charel and Jamaal Palmer, owners of Popbar Alpharetta, Georgia's first and so far only, Popbar franchise. We wrap things up with leadership advice and insight from Executive Coach, Susan Inouye. Be sure to tune into this week's show!
Original air date: – 11.29.19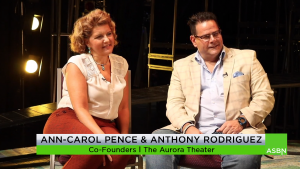 How The Aurora Theatre is Transforming into One of Georgia's Largest Arts Organizations – Anthony Rodriguez & Ann-Carol Pence
Over the past 20 years, the Aurora Theatre has grown from a humble playhouse to an artistic and cultural staple of Metro Atlanta. Now in its 24th season, the Aurora Theatre holds over 850 events and entertains 80,000 visitors every year, making it the fastest-growing professional theater in Georgia. We recently had the opportunity to sit down with Co-Founders, Ann-Carol Pence and Anthony Rodriguez on the Aurora's main stage, and find out what makes this theater so successful. Watch Now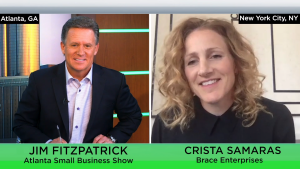 How to Overcome Self-Doubt and Become a Badass Entrepreneur – Crista Samaras, Brave Enterprises
On this episode of the Atlanta Small Business Show, we sit down with Crista Samaras, CEO and Founder of Brave Enterprises, to tell us about what inspired her to start her business and how she motivates others to face their fears and step out of their comfort zone. Watch Now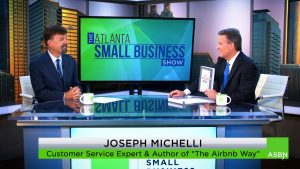 What You Can Learn from Airbnb About Customer Experience – Joseph Michelli, NYT Best-Selling Author
On today's show, we're pleased to welcome back Joseph Michelli, author of multiple New York Times Best-Selling books and customer experience expert. Joseph discusses what business owners can take away from his latest book "The Airbnb Way: 5 Leadership Lessons for Igniting Growth through Loyalty, Community, and Belonging", and how to implement some other valuable customer experience practices. Watch Now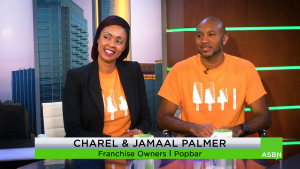 Atlanta Small Business Profile – Charel & Jamaal Palmer, Popbar
This week, on the Atlanta Small Business Profile, host and small business expert Ted Jenkin, sits down with Charel and Jamaal Palmer, owners of Popbar Alpharetta, the first Popbar franchise to open in Georgia. Popbar is a hand-crafted, customizable, gelato franchise where every all-natural creation is served conveniently on a stick. Founded in New York City's west village nearly 10 years ago, Popbar now has over 30 franchise locations in the United States, Canada, Singapore, and Portugal. Charel and Jamaal have opened the only location in Georgia so far, and today they share their story with us. Watch Now
The Steps Leaders Must Take in Order to Thrive into the Next Decade – Susan Inouye, Executive Coach
On today's show, we're pleased to welcome Susan Inouye, executive coach, leading expert with millennials and best-selling and award-winning author of "Leadership's Perfect Storm: What Millennials Are Teaching Us about Possibilities, Passion and Purpose." In this segment, Susan discusses her background in leadership training and coaching as well as the inspiration behind her latest book. Watch Now
---
The Atlanta Small Business Network, from start-up to success, we are your go-to resource for small business news, information, resources.

Follow us on Facebook here and stay up to date or catch-up on all our podcasts on demand.
While you're here, don't forget to subscribe to our email newsletter for all the latest business news know-how from Atlanta Small Business Network.
This has been a JBF Business Media production.