In an ideal world, startups would be able to drive business growth and profitability in tandem. However, our guest today implores business owners to mitigate their expectations and either choose a rapid growth phase with no little to no profit, or a maximizing profit phase, which means cutting overhead costs and halting growth. To find out why, we welcomed back George Deeb, Managing Partner of Red Rocket Ventures and author of over 300 lessons for startups and business owners.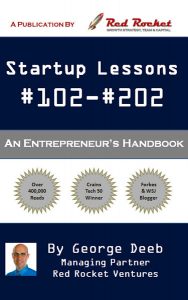 In this segment, we find out when startups should begin to worry about making money, the growth and profitability factors that need to be assessed, and how to figure out which path is right for your startup. George also discusses when it is better to focus on driving growth vs. driving profitability, and why businesses have to choose one over the other in the first place. Jim and George also take a look at which path investors typically prefer and why.
To hear more expert advice and insight from George Deeb, click here.
---
The Atlanta Small Business Network, from startup to success, we are your go-to resource for small business news, information, resources.

Follow us on Facebook here and stay up to date or catch-up on all our podcasts on demand.
While you're here, don't forget to subscribe to our email newsletter for all the latest business news know-how from Atlanta Small Business Network.
This has been a JBF Business Media production.