Although conferences and trade shows are great places to find new clients, learn about your industry, and recruit new employees, getting to those conferences and trade shows can be painful when you're a small business. Unlike a large corporation, you probably don't have a designated department to organize your travel or a massive network of discounts already in place. 
But if there's anything small business owners and employees excel at, it's overcoming obstacles. So here are a few tips to help you and your employees have a productive, comfortable and smooth corporate trip.
1. Consider both travel agencies and open booking
Many small businesses default to using open booking (your employees go on whatever travel site they prefer, book their tickets, and apply to be reimbursed.) Other businesses practice a variation on open booking where one employee, often a department head, compares prices on travel sites and either applies for reimbursement or buys everyone's tickets on a company credit card. Still others work with an affiliate travel agency. 
Which method is best? Unfortunately, there's not a simple answer to that question. Using a travel site allows employees to easily compare prices and choose flights and hotels that work with their schedules. However, travel agents are often experts at finding group deals that individuals don't have access to. 
Before making a decision on whether to use a travel agency or open booking, make sure that you compare costs of both. The reservation method that instinctively comes to mind may not be the best one for your business. 
2. Set a budget that your employees can work with
If you're asking your employees to apply for reimbursement for their travel costs, you'll need to set a realistic budget for them. Although establishing a budget is common sense, often businesses underestimate how much employees will reasonably need to spend on food, rideshares, and last-minute transportation changes. It's better to slightly overestimate how much you may need to reimburse employees than to set a budget so strict your team can't possibly stick to it.
You can also look into budgeting software and loyalty programs to help you save money without restricting employees. Dozens of software programs exist to help owners and employees keep track of business expenses as they occur, so you won't be caught off guard by a stack of receipts at the end of the trip. Many banks and credit cards also offer loyalty programs with cashback and other perks for small businesses. 
3. Look into multiple forms of transportation
Transportation is one of the most expensive parts of business travel, so it's important to consider all of your options carefully. Would it be more affordable for your group to fly or to use a form of ground transportation, such as a charter bus?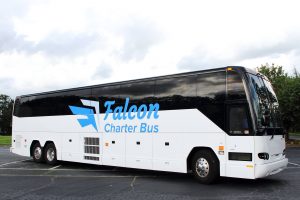 During the planning process, you may want to get a quote from an area charter bus company, such as Falcon Charter Bus, and then divide that quote to see whether the per-person cost is greater than or less than flying. Start your research early, because with both flights and charter buses you can often save money by booking several months in advance. 
If you do opt to fly, make sure you consider both connecting and direct flights and avoid any unnecessary upgrades. Just because you're flying for business doesn't mean you have to fly business class. However, you may not want to book a nonrefundable ticket that can't be changed just because it's cheap. The cost of canceling and booking a new ticket might outweigh the benefit of an initially inexpensive ticket. 
When you fly to your destination, you'll also need to take into account how to get your employees from the airport to the hotel and the conference center. Rental cars offer great flexibility but can also be quite expensive and require your employees to be comfortable driving in an unfamiliar city. Rideshare services might be less expensive than rentals if your employees are doing a limited amount of driving, but if you have a large group who would need many rideshares, those costs can add up as well.
For groups of more than a dozen people, a minibus rental may be one of the easiest and most efficient ways to get to all of your destinations. How much it will cost per person depends on how many days your trip lasts, how far the bus has to travel, and how many people will be on the bus, so make sure you do the math and decide which option is most affordable and convenient for you. 
4. Choose between hotels and corporate apartments
Many people automatically default to booking hotels when planning business travel, but for longer trips, renting corporate apartments may be more affordable. Major cities often have hundreds of furnished, comfortable corporate apartments to choose from. You can also request a long-term minibus to shuttle employees from their apartments to the office if you need to. 
5. Don't be afraid to have some fun
Once you've lined up all the essentials, like transportation and lodging, you may want to add some fun activities to your business trip. A group outing to a restaurant, a museum, or a sports game can bring your employees together, keep clients engaged, and get everyone excited about an upcoming business trip. If you're looking for ideas, Falcon Charter Bus has created a few sample itineraries to help you explore cities like Tampa and Miami. 
Start Planning Your Business Trip Today
Make your next work trip an exciting and productive experience for your business, not a stressful and overly expensive one. If you're willing to research and plan ahead while remaining flexible and open-minded, you can save money on your trip and still accomplish all of your business goals. And after meetings and presentations are done, don't forget to relax, bond, and have an amazing time with your team.
---
The Atlanta Small Business Network, from start-up to success, we are your go-to resource for small business news, information, resources.

Follow us on Facebook here and stay up to date or catch-up on all our podcasts on demand.
While you're here, don't forget to subscribe to our email newsletter for all the latest business news know-how from Atlanta Small Business Network.
This has been a JBF Business Media production.