Being an entrepreneur isn't easy. However, it is even tougher to do if you don't have a support system or the right resources. Sometimes, "hustling" alone isn't the answer. Fortunately, Atlanta has become an environment for sustainable business growth and professional networking. Many resources are emerging to offer support to up-and-coming entrepreneurs in the city. One of those sources of support is business clubs. Business clubs can sometimes be confused with coworking spaces, but they go a step further. While they can offer communal and private workspaces, they also provide workshops, networking opportunities, and may act as a mini-incubator for startup owners who are members. 
Below is a list of six of these notable business clubs in the Metro Atlanta area: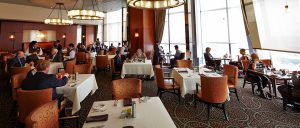 Likely one of the most high-end experiences on this list, The Buckhead Club is billed as a "premier business and social club" in the Metro Atlanta area. Members can take advantage of guest speaking, networking, and social events. Members can also enjoy golfing, wine tastings, and exclusive dinners. The goal is to help business professionals expand their professional network while engaging in entertaining events and attending business-building seminars. In addition to business-related resources, members can also receive discounts on tickets and additional networking events while taking advantage of a variety of other incentives offered by participating hotels and resorts. For those who want to blend high-quality entertainment with professional networking, the Buckhead Club is worth a look. 
The idea for The Gathering Spot began in Washington, D.C., when co-founders, Ryan Wilson, and TK Petersen wanted a place where they could work while engaging in a community. Eventually, the two came to Atlanta to establish The Gathering Spot in 2016. In the years since it has started, this club has hosted everything from black-tie galas to political events and trivia nights. Members receive discounts on rental space, access to conference rooms and private offices, complimentary breakfast, a 24/7 workspace, and access to several members-only events each month. If members are accepted, they can expect to pay a $300 initiation fee and a $200 monthly membership payment. Anyone who is accepted that is under 30 is asked to pay a $100 initiation fee with a monthly $100 payment. 
Related: The Gathering Spot: A Private Membership Club for Atlanta's Entrepreneurial Community – Ryan Wilson, CEO
While this place may be known for being a Norcross-based coworking spot, it moves beyond that to be a resource for entrepreneurs. Joy Coworking, also known as JoyCo, is a female-only membership-based coworking facility. They are known to host over 15 business-related events per month. Members can attend strategy sessions where they bounce ideas off of fellow entrepreneurial women, happy hours, evening work sessions and dinners, and additional networking events. Those who apply for the Community membership package can expect dues of $30 a month. However, there are other memberships and coworking pass options.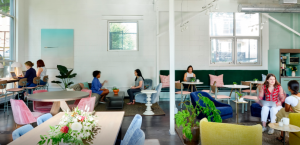 For those who want to stay more firmly within the Atlanta city limits, The Lola is a viable option. This one is also a female-only coworking space and business membership club wrapped into one. In addition to its open-area workspaces, lounges, and meeting rooms, The Lola offers a variety of additional resources for female entrepreneurs. Members have access to a podcast studio, lending library, mail service, and a wide range of other business-related amenities. Members can also expect a variety of programming and networking opportunities throughout the month. Memberships are $1,815 annually or $165 per month with a $200 initiation fee. 
For those who have tried out coworking spots, but need a bit more than hot desks and conference rooms, Oxwork may be the alternative. It does offer the traditional coworking options as members have access to event space rentals and can purchase private offices for $499 per month and desks for $149 per month. However, in addition to desks, members can join in on weekly business programming events. For those who want to go further in their business development, there are options to participate in business accelerators, one-on-one consulting, and goal-setting programs. 
Switchyards markets itself as a blend of a coffee shop, coworking spot, and hotel lobby. Members gain access to all three Switchyard locations, phone booths, private meeting spaces, and dining-related amenities. Those who are accepted can also take advantage of workday lunches, gatherings of Atlanta-based companies and brands, and social networking events. Switchyards has rapidly expanded since its founding by Scoutmob founder, Michael Tavani. The club now has 800 members and has grown to include two additional locations since its initial launch. Memberships are $50 per month, but at the time of this writing, there is a waitlist for acceptance. 
Related: Switchyards: A Look Inside Atlanta's Newest and Fastest Growing Members Only Club – Michael Tavani, Founder
Final Thoughts
There are times when entrepreneurs need more than a desk. The facilities above provide a space to work in addition to networking, workshop, and social gathering opportunities. As the business ecosystem continues to evolve in Atlanta, more clubs like those mentioned above will hopefully emerge, offering additional sources of support for more of Atlanta's up-and-coming entrepreneurs.  
---
The Atlanta Small Business Network, from start-up to success, we are your go-to resource for small business news, information, resources.

Follow us on Facebook here and stay up to date or catch-up on all our podcasts on demand.
While you're here, don't forget to subscribe to our email newsletter for all the latest business news know-how from Atlanta Small Business Network.
This has been a JBF Business Media production.