While some businesses are shutting down or telecommuting during the COVID-19 pandemic, many are still open. These businesses will need to take extra precautions during this time to help prevent the spread of the virus within their workspaces. 
To start, businesses remaining open at this time should closely monitor all CDC recommendations, as well as keep abreast of local, state, and federal directives. In some communities and states, certain businesses are being asked to take specific measures. 
Here are three processes you can implement at work now to protect your employees.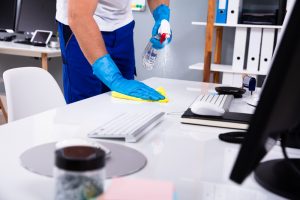 Institute Clear Health Guidelines
Using the CDC recommendations as a starting point, collaborate with employees to create a clear set of health guidelines that everyone agrees to support. These guidelines should inform what employees should do on the job to keep from spreading germs, as well as if they feel sick at any point before or after work. Once compiled, make reference copies for everyone, and post reminders around the workspace. 
Related: COVID-19: Should You Close Your Business Doors?
Establish Cleaning Practices
A good start when it comes to maintaining a germ-free workspace is to have in place excellent cleaning practices. In addition to a nightly cleaning, employees should clean their hands with hand sanitizer or soap and water each time they come into work and after interactions with others.
Help make this possible by providing sanitizer at entrances or work stations, and soap and paper towels in the bathrooms. Bathrooms should also have signs that visually remind employees to take the recommended twenty seconds to wash their hands. 
Finally, high traffic areas, such as doorknobs and desks, should be regularly wiped down throughout the day. Assign specific public areas, like breakroom microwaves, to different employees rather than leaving the responsibility vague. Make sure they also know to wipe in one direction, instead of in circles. Circular scrubbing simply redeposits germs instead of removing them. 
Engage in Social Distancing
One of the best ways to keep employees from infecting one another at work is to keep them a safe distance away from each other. This might mean taking one or more approaches to keep people apart. 
Related: 5 Tips for Working from Home During a Quarantine
For example, one of the best ways to practice social distance is to allow for remote work. Though it can be challenging to work from home at times, it is the best option for anyone showing symptoms or who belongs to a high-risk group. If work from home is not an option, employers should still advise these groups to remain home and be flexible about absences. 
For those coming into work, consider staggering shifts so that there are never too many people in the workspace. Have employees spread out and limit physical contact as much as possible.  
Last, cancel large meetings. Instead, deliver relevant information via email, web conferencing, or other remote communication methods. Right now, many platforms provide free or reduced cost for these services as a way to help keep civilization rolling. Integrating measures like these can lower everyone's chances of catching the virus, which will, in turn, help business continue with minimal interruptions while we all weather this storm. 
---
The Atlanta Small Business Network, from start-up to success, we are your go-to resource for small business news, expert advice, information, and event coverage.
Follow us on Facebook here and stay up to date or catch-up on all our podcasts on demand.
While you're here, don't forget to subscribe to our email newsletter for all the latest business news know-how from Atlanta Small Business Network.
This has been a JBF Business Media production.