Every entrepreneur is passionate about their vision, but what happens when passion clouds judgment and causes business owners to make poor decisions? To find out, we recently spoke to Brad Stulberg, Health, and Human Performance expert and Co-author of 'The Passion Paradox: A Guide to Going All In, Finding Success, and Discovering the Benefits of an Unbalanced Life'. Brad's clients include entrepreneurs, executives, and leaders from many industries. He is also a regular contributor for The New York Times, Sports Illustrated, and Forbes.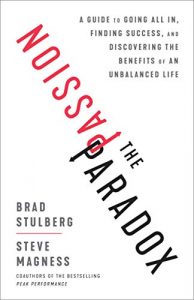 To begin the discussion, Brad outlines the three predominant cultural myths around passion in our society. The first myth is that you 'find a passion'. We're told from a very early age that passion hits us like a lightning strike; that we'll have a single moment of profound clarity. Brad assures us, it doesn't work like that. Research shows that passion is actually developed over time by following one's interest.
The second myth is believing that by following your passion, everything will work out perfectly. In fact, people who chase this false idea of perfection tend to suffer more from burnout and dissatisfaction. Passion has a dark side to it which is obsession. That's why it is imperative to utilize passion in a healthy way. The last myth is the idea that in order to follow your passion, you have to sacrifice a balanced lifestyle.
One of the ways Brad says you can prevent passion from becoming obsession is to keep other parts of your identity alive. Also, finding other people who have walked a similar path is key to shifting one's perspective to a more balanced and healthy mindset.
To find out more about Brad and The Passion Paradox, be sure to watch our entire interview above.
---
The Atlanta Small Business Network, from start-up to success, we are your go-to resource for small business news, expert advice, information, and event coverage.

Follow us on Facebook here and stay up to date or catch-up on all our podcasts on demand.
While you're here, don't forget to subscribe to our email newsletter for all the latest business news know-how from Atlanta Small Business Network.
This has been a JBF Business Media production.