One of the fastest and most effective ways to learn how to start a business is to seek out the advice of someone who has already done it. Business coaches and consultants can bring a lot to the table in terms of insight, knowledge, and expertise, but it's important to make sure you find the right network of business owners to rely on. No one knows this better than our next guest, Andy McDowell. Andy is the founder and owner of Generate Your Value, a community built for entrepreneurs who are looking to expand their networks and gain more business knowledge.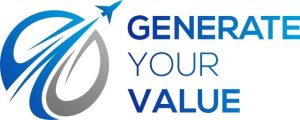 Andy began his entrepreneurial journey in the aviation industry as a consultant. During his time leading the Atlanta office for a company called Jeppesen, the business was bought out by Boeing. Once Boeing gained a full understanding of the company's capabilities, they enlisted Andy to develop a global consulting business in airspace design. Andy had to build this business from the ground up and act as an entrepreneur within a larger company.
His latest venture, Generate Your Value, Andy wanted to find a way to help entrepreneurs generate more value in their professional lives without having to make large sacrifices and extract value from their personal ones. Generate Your Value offers a wide variety of services including educational courses, advisory boards, and business coaching programs designed to help entrepreneurs reach their full potential. Generate Your Value also incorporates the Catalyft Success System,
According to Andy every coach should have two crucial elements: experience and process. The more a coach can relate their personal and professional journies to those of the clients, the more mutual success the coach and client will share. It takes a village to raise children and the same can be said for a business. A coach's responsibility is to ask the right questions the early on, and the sooner you can bring a coach in the fold, the better off your business will be.
To learn more about Andy and what Generate Your Value is all about, be sure to check out our full interview above.
---
The Atlanta Small Business Network, from start-up to success, we are your go-to resource for small business news, information, resources.

Follow us on Facebook here and stay up to date or catch-up on all our podcasts on demand.
While you're here, don't forget to subscribe to our email newsletter for all the latest business news know-how from Atlanta Small Business Network.
This has been a JBF Business Media production.