COVID-19, a novel form of the CoronaVirus, is rapidly changing how we interact on many levels. From social distancing to canceled events, our lives are being restructured from the ground up. 
Three Categories of Consideration
There are three categories of small businesses making tough calls right now.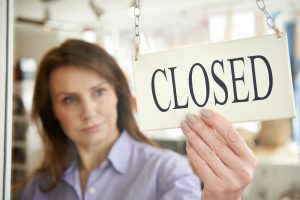 Those With No Choice
The first are those who have no choice but to close because of local, state, or federal regulations regarding COVID-19. In many states, bars, restaurants, and other highly trafficked establishments are shutting down in the interest of public safety. 
In some cases, these businesses are finding creative ways to continue operations while staying within the bounds of current CDC recommendations. For example, many eateries are shutting their dining areas and providing deliveries instead. Before choosing this approach, however, businesses should carefully consult with local and state officials to ensure they aren't crossing important safety margins. 
Related: What Procedures to Take if You Closed Your Business During the COVID-19 Epidemic
Those With Many Choices 
The second form of businesses are those that are easily transportable. Some companies can move to a fully online model, which will allow their employees to self-quarantine at home during this crisis. This will lower rates of workplace infection, will discourage employees with symptoms from trying to show up, and give relief to caregivers whose children may be home from school indefinitely. This model also provides the least amount of work disruption, which means much-needed paychecks can continue to arrive in time. 
Those planning to use this method should keep in mind that working from home has its downsides. Work will be interrupted at times by family or health concerns, and so flexibility in deadlines and communication is necessary. Still, if a company has the luxury to voluntarily close its physical doors and hunker down, by all measures, this is the best way to mitigate long-term damage.
Those in Between
This last category is less clear-cut than the other two. Many businesses require in-office time and in-person communications with each other and clients. Because of their volumes and business model, they may not be mandated to close their doors or may not need to. Some may financially be unable to shut down because doing so would be the end of their business and spell economic doom for their employees.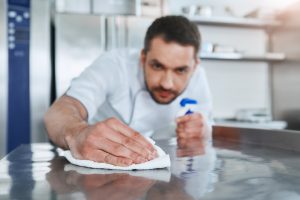 For these companies, the CDC has issued several guidelines and suggestions for businesses to help navigate this storm. These directives look at ways to minimize contagion while allowing work to continue. Some of the basics include being lenient on absenteeism, sending home sick employees, instituting strict hand washing and sanitizing procedures, and keeping an eye on policies as they change. Special consideration should be applied to employees in high-risk categories, such as those with pre-existing respiratory conditions. 
Additionally, businesses should aim to restructure to maximize safety. Workdays should be staggered so that fewer employees are in a building at once, and that proper distance can be maintained between them. Employees should start cross-training as well so that no one person brings everything to a halt if they get sick. 
Related: The Trump Administration Provides Economic Relief for Small Business Owners Through Low-Interest Loans
The CDC also recommends identifying "essential business functions, essential jobs or roles, and critical elements within your supply chains (e.g., raw materials, suppliers, subcontractor services/products, and logistics) required to maintain business operations." It is critical for a business's ongoing success that they plan for the possibility of supply-chain slowdowns or interruptions. PricewaterhouseCooper has published a guide for companies that can help them figure out the legalities of different crises.
Bottom Line
These are uncertain times. Business owners need to keep a close eye on the news and plan as much as possible. Prepare for changes and work to solve problems before they arise, either through pre-emptive shifts toward work-at-home models, or changes in operation structures.
Featured image by: https://www.jsonline.com/story/news/2020/03/12/canceled-coronavirus-cancelled-postpones-wisconsin-events-bucks-games/5034263002/
---
The Atlanta Small Business Network, from start-up to success, we are your go-to resource for small business news, information, resources.

Follow us on Facebook here and stay up to date or catch-up on all our podcasts on demand.
While you're here, don't forget to subscribe to our email newsletter for all the latest business news know-how from Atlanta Small Business Network.
This has been a JBF Business Media production.