No matter what you sell or how large your business is, developing an unforgettable brand for your business is one of the best ways to establish yourself as an industry competitor. And no one knows that better than our next guest, Andrew Nguyen. Andrew is the co-founder of the O Agency and the founder and creator of the Build Your Own Brand Conference based right here in Atlanta. He has also been featured in Forbes, the New York Times, and Mogul Mentality to name a few. In this segment, we discussed his journey as an entrepreneur, some best branding practices, and his wildly successful BYOB Conference.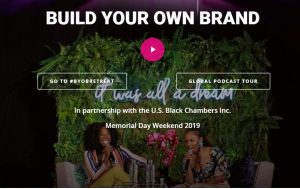 During his first year of college, Andrew quickly realized that the track he was on to become a pharmacist was not for him. Much to the disapproval of his parents, Andrew changed his major and started an MBA track. However, this meant that he was completely on his own. From sleeping in his car to sneaking showers in the dorm room, Andrew learned how to hustle from very early on.
He then began his very own marketing and branding agency called The O Agency. Three months after opening the agency, they signed their first professional athlete, DeAngelo Hall, of the Washinton Redskins. Once you do a good job for one person, it kind of snowballs into success.
Andrew also created the BYOB network, or Build Your Own Brand. BYOB was born out of the desire to support millennial entrepreneurship, Andrew put on the first conference in the D.C. area with over 1,000 guests. Early this year, the second conference was held in Atlanta and had over 2,000 guests representing 48 states and several other countries. BYOB encourages entrepreneurs with diverse backgrounds to attend the 2-day conference where they go over everything from growth hacking, to personal development, to fundraising, to mental health.
To learn more about Andrew, The O Agency, and BYOB, be sure to catch our full interview above.
---
The Atlanta Small Business Network, from start-up to success, we are your go-to resource for small business news, information, resources.

Follow us on Facebook here and stay up to date or catch-up on all our podcasts on demand.
While you're here, don't forget to subscribe to our email newsletter for all the latest business news know-how from Atlanta Small Business Network.
This has been a JBF Business Media production.