Cyber Monday has become a significant period for online stores across all niches. Major retailers use the holiday period to drive traffic and unload stock, while smaller stores can also see large spikes in sales. Adobe Analytics reported that sales in 2018 reached $7.9 billion, a growth of 19.3% from the previous year. Cyber Monday is highly competitive, with companies using all kinds of tactics to generate interest. If you want to gain a foothold in your industry during this time, you need a series of marketing strategies that you can count on.
Create a Theme 
Creating a theme can help your promotion stand out, offering something more original than a basic sale. Each industry will have its reference points that can be leveraged to develop a theme. Some broader examples could include giving a mystery prize with every purchase, building a party theme that gets featured across your site, or donating a percentage of profit to an environmental cause. You can go further than just creating the promotion by building the concept into your graphics, banners, and sales copy.
Simplify the Promotion 
Some holiday promotions can be too confusing, making it difficult for consumers to work out whether the deal is enticing enough. For most businesses, simplifying the marketing will draw more attention and avoid any misunderstandings. You could offer a flat discount code that works across every product. Alternatively, you could group discounted items on an individual page. 
Utilize Email Marketing 
Email marketing is one of the best ways to grow interest, ensuring there is a high demand when your Cyber Monday sale launches. If you are offering a limited edition product or something that needs explaining, you can start the promotion earlier. If the offer is a simple store discount, the preparation won't take as long. Sending multiple messages during the promotional phase will grow demand, so don't be concerned about unsubscribes.
Create a Social Media Campaign 
Similar to email, social media marketing can increase interest before and during the promotion. Content can get developed around the broader theme, but then adapted to suit each social platform. Graphics can be adapted for each site, while you may need video content for sites like Instagram and Facebook. Social media contests can be used to build hype, with likes and shares helping to develop the interest of your followers.
Use Paid Advertising 
Holiday promotions can be challenging when using paid advertising. You want to reach as many people as possible during this busy period, but many other advertisers have the same idea. Sites like Facebook can see their ad costs rise during Cyber Monday and the surrounding times. It is possible, though, to still make a profit by carefully monitoring your ROI. Work out your metrics before starting the process, understanding how much you can afford to spend to remain profitable. As long as you stay within budget, the extra spend should be made back with an influx of new customers.
Design Unique Collections 
Cyber Monday can attract so much additional traffic that it could make sense to create something unique. You may have a popular product that you don't necessarily want to offer at a steep discount. Instead, you could create unique packaging or a product bundle, so consumers are still encouraged to buy. Many consumers use Cyber Monday to browse for exciting products and gifts, with a unique package standing out among the traditional discounted deals.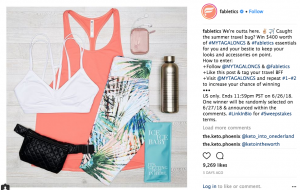 Run Giveaways 
Giveaways can increase interest in your brand, but you need to ensure you don't distract from the principal promotion. If people are waiting to see if they have won a prize, they may delay making a purchase. Instead, though, you can create a giveaway that promotes your main products, while still giving an incentive to enter the draw. The prize could be a product bundle that gets pushed in the preceding days, with the winners being announced early on Cyber Monday. You will then be able to contact entrants and advertise the sale has started.
Holiday sales generate a tremendous amount of interest from consumers. Many businesses rely on holiday sales to sustain their enterprise, with customers waiting until these periods to make purchases. Cyber Monday is one of the most significant periods for online retailers, regardless of your industry. If you can make the occasion count, you can increase revenue and generate much interest for your brand. Cyber Monday can be used to draw new customers in, but the momentum can last into the future.
---
The Atlanta Small Business Network, from start-up to success, we are your go-to resource for small business news, information, resources.

Follow us on Facebook here and stay up to date or catch-up on all our podcasts on demand.
While you're here, don't forget to subscribe to our email newsletter for all the latest business news know-how from Atlanta Small Business Network.
This has been a JBF Business Media production.