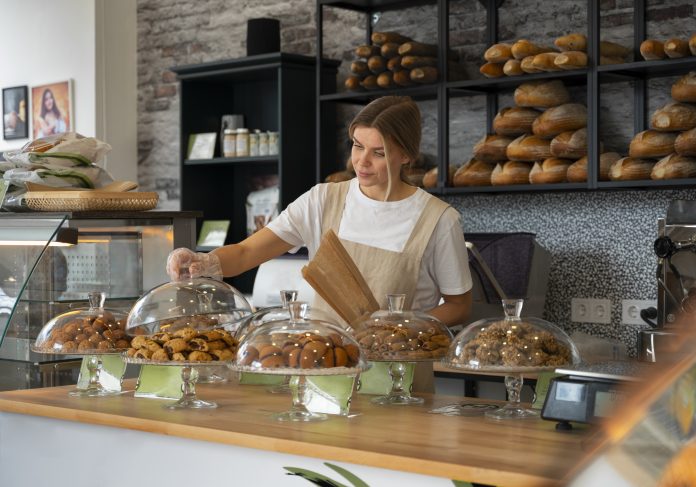 According to the National Restaurant Association, the calculated forecast for food businesses and the restaurant industry is more than $997 billion.
You're not alone if you dream of turning your culinary prowess into a thriving business. There is no denying that entrepreneurship offers a delectable array of opportunities for food enthusiasts to share their culinary creations with eager customers.  
So, whether you're an aspiring chef, a baker extraordinaire, or simply someone who believes in the magic of a well-prepared meal, here we have outlined 25 small business ideas tailored to your foodie ambitions. 
Let's get started! 
Small Business Ideas for Foodies
Catering Magic 
Start a catering business and delight clients with your culinary expertise. From intimate gatherings to grand celebrations, your flavorsome offerings will leave a lasting impression. 
Artisanal Bakery Bliss  
Whisk up a storm in the kitchen and open an artisanal bakery. Freshly baked bread, delectable pastries, and specialty cakes will have customers returning for seconds. 
Personal Chef Services 
Offer personalized dining experiences by becoming a personal chef. Create customized menus, cook in clients' homes, and provide a taste of luxury without them lifting a finger. 
Cooking Classes for All Ages 
You can share your cooking knowledge through cooking classes and turn it into a formal business. Teach individuals or groups how to create mouthwatering dishes, from beginner basics to advanced techniques. 
Meal Kit Mastermind 
Assemble pre-portioned meal kits with easy-to-follow recipes. Busy individuals and families will appreciate the convenience of cooking gourmet meals at home. 
Tempting Snack Boxes 
How about curating and delivering snack boxes filled with various delectable treats? From health-focused options to indulgent delights, snack boxes cater to diverse tastes. 
Food Truck Eats 
Take your culinary creations on the road with a food truck. Offer on-the-go gourmet experiences, whether savory tacos, artisan burgers, or exotic fusion dishes. 
Gourmet Pop-Up Dinners 
Organize pop-up dining events that tantalize taste buds with unique menus and exclusive venues. This concept creates excitement and a sense of culinary adventure. 
Specialty Food Market 
Curate a boutique food market showcasing local artisanal products, gourmet ingredients, and culinary tools that food enthusiasts won't resist. 
Cooking Workshops for Kids 
Ignite a love for cooking in young minds by hosting cooking workshops for kids. It's a fun and educational way to introduce them to the world of flavors. 
Food Photography and Styling 
If your talent extends beyond the kitchen, consider offering food photography and styling services to restaurants, cafes, and food brands. 
Homemade Condiments and Sauces 
Craft and sell your own line of gourmet sauces, jams, pickles, and condiments that elevate everyday meals with your unique flavors. 
Food Blogging and Vlogging 
Did you know food blogging is one of the most profitable blog niches, as per a recent study? You can turn your culinary adventures into captivating content if you have a passion for blogging. Share recipes, cooking tips, and restaurant reviews through a food blog or YouTube channel. 
Ethnic Cuisine Delivery 
Specialize in a particular ethnic cuisine and offer delivery services—transport customers to far-off lands through authentic flavors and traditional dishes.
Dessert Catering 
Focus exclusively on sweet delights by offering dessert catering. From elegant cakes to decadent pastries, your creations will highlight any event.
Homemade Pasta and Sauces 
Handcrafted pasta and flavorful sauces are always a hit. Offer customers the luxury of restaurant-quality pasta dishes in the comfort of their homes. 
Healthy Meal Prep Service 
Cater to health-conscious customers by providing pre-prepared, nutritious meals that support their wellness goals. 
Specialty Tea or Coffee Blends 
Create your own specialty teas or coffee blends and sell them online or in local markets. Unique flavors and aromas will entice tea and coffee enthusiasts. 
Food Subscription Boxes 
Curate subscription boxes filled with seasonal ingredients, exclusive recipes, and culinary surprises that arrive at customers' doorsteps each month. 
Food Event Planning 
Use your organizational skills to plan and execute food-focused events, such as food festivals, tasting events, or farm-to-table experiences. 
Homemade Gourmet Popsicles 
Beat the heat with artisanal popsicles in imaginative flavors. These frozen treats appeal to both kids and adults seeking refreshing indulgence. 
Plant-Based Catering 
Capitalize on the growing demand for plant-based options by offering catering services specializing in delicious and innovative plant-based dishes.
Food Delivery App 
Develop a food delivery app that connects local chefs and cooks with customers seeking homemade meals delivered to their doorsteps. 
Cooking Retreats 
Combine your love for food and travel by organizing cooking retreats in scenic locations. Participants can learn new cooking skills while immersing themselves in local culture. 
Specialty Spice Blends 
Create and package unique spice blends that can transform ordinary dishes into extraordinary culinary experiences. 
Key Takeaway
These 25 small business ideas serve as a starting point for turning your passion for food into a profitable venture. Whatever path you choose, remember that sharing your love for food can bring you success and the joy of enriching the lives of others through the pleasure of taste. With determination, creativity, and a dash of entrepreneurial spirit, your journey from foodie to entrepreneur is bound to be flavorful.