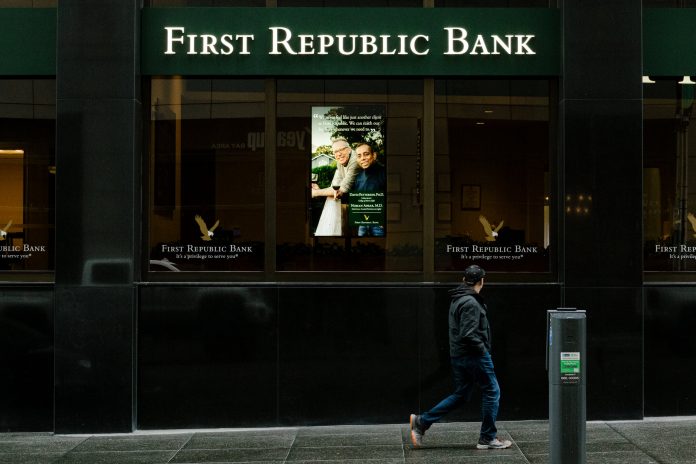 A series of bank failures starting in March culminated in the collapse of First Republic on May 1, resulting in a federal seizure and new questions over the economy's health.
First Republic, a national lender with 84 offices across the U.S., entered the final weekend of April struggling to sell its assets. By the following Monday, the bank had been closed, purchased and reopened under a new owner, becoming the third such institution to disappear since February.
Leading up to its demise, First Republic had seen 40% of its deposits withdrawn over the first quarter, spurred by the initial collapses of Silicon Valley Bank and Signature Bank in March. That same month, the lender also reported that 70% of its remaining deposits were uninsured, well above the 55% national median but still below both its failed predecessors. Over the days leading up to May 1, the bank's attempts to fix its balance sheet grew more desperate, culminating in a last-ditch effort to sell $100 billion in assets. On Friday, April 28, after it was clear that no buyer would arrive in time to prevent a closure, the FDIC made arrangements to auction the bank off over the next two days, eventually awarding ownership to JPMorgan Chase.
As with Signature and SVB, the collapse of First Republic comes amidst a backdrop of high inflation and increasing interest rates, both of which seem to discredit hopes that the economy will return to its pre-COVID state anytime soon. Furthermore, many of today's conditions bear eery similarities to the period leading up to 2008's "Great Recession," the only financial crisis many Americans have experienced.
But whether another recession is due and whether its effects will have the same impacts as seen previously remains uncertain. While the 2008 financial crisis was closely tied to loose lending practices, lending institutions have already tightened credit standards over concerns stemming from the developing banking crisis. Such preemptive actions can keep banks safe from high-risk clients but do little to protect their current investments and deposits. These are only as safe as the public's commitment to making wise financial choices and belief in the banking system's integrity. While official statistics indicate consumers continued to maintain responsible spending habits well after 2020, trust in banks deteriorated swiftly following the collapse of SVB. The doubt is only more likely to grow with the end of First Republic, even as the FDIC scrambles to reassure the U.S. that its financial system is safe.
However, while the economy is undeniably experiencing a period of volatility and uncertainty, many of the issues felt by today's businesses are holdover items from the pandemic, problems that need ample time to resolve. While entrepreneurs are advisably taking measures to protect themselves in light of recent bank closures, hasty reactions run the risk of creating more problems for others. Nobody likes to play the waiting game, but until more developments arrive, it is impossible to know whether the situation will improve or deteriorate in the near future.