When it comes to small businesses and entrepreneurship, Atlanta is where business owners go to thrive. However, the story is not as bright for all of the city's citizens. While Atlanta boasts a booming economy for most, the city became the number one most unequal large city in the country on Bloomberg's 2017 list. Almost 10 percent of households within Atlanta are making less than $10,000. Unfortunately, it is no secret that many of these locations hit by the city's income inequality are in areas lived in by many minority populations. 
However, a new initiative is looking to change the trajectory of these areas. Many of these neighborhoods are anchored by minority-owned small businesses. As a result, The National League of Cities and Democracy at Work Institute are looking to offer support to these companies to foster economic prosperity in these areas. 
The SEED Program
The Shared Equity in Economic Development program (SEED), seeks to address an issue that plagues many minority-owned small businesses and the neighborhoods that surround them. As small business owners in these areas begin to retire, many times, there is no set succession plan in place to pass these businesses off to someone else. 
The SEED Program is set to aid city governments in helping to promote and facilitate employee ownership to combat this rising issue. The long-term goal of the program is to help communities of color, immigrants, and individuals who work in low-wage industries build wealth and assets. The program accomplishes this by providing outreach, education, and assistance regarding employee and co-op ownership. 
The SEED program launched in 2018 and is operating in Philadelphia, Atlanta, Durham, and Miami, four cities that have populations that can benefit from the features of this initiative. So, what can the city expect from this program, and how can it positively impact these neighborhoods and regions, take a look at our takeaways below: 
It is a Community-Driven Project
The SEED program seeks to involve community leaders, experts, and other stakeholders within the city to support the project. The Mayor or City Manager selected city, coordinating, and community fellows to work with community leaders and neighborhood peers to choose a relevant issue to address. 
Once this occurred, an Advisory Group formed to begin to create solutions to support the project's scope and reach out to local south Atlanta business owners. For Christina Cummings, SEED fellow and interim director of Atlanta's Office of Housing and Community Development, this outreach consisted of going door-to-door to invite small business owners to meet with program representatives to discuss the options of employee ownership. 
Community Leaders Have Set Their Sights on South Atlanta
According to Cummings, the SEED program in Atlanta is focused on helping African-American owned businesses in Cascade Heights, preserve their businesses. This area is the site of a variety of influential and historic black-owned companies and houses a large number of middle-class African American residents. Within this community, Cumming's outreach work paid off as over 50 community stakeholders attended Atlanta's technical visit to discuss viable solutions for business succession planning. As a result, Cummings felt that she and her team were able to form a foundation of transparency to help drive future discussions. 
Who Is Involved?
In addition to Christina Cummings, Randi Mason, director of economic development at Invest Atlanta, and Reese McCranie, deputy chief equity officer of the Mayor's Office of Equity, Diversity, and Inclusion are both a part of the city's SEED Program team. At the highest level, The National League of Cities and the Democracy at Work Institute are partnered to facilitate the program. The National League of Cities works to help city leaders build better communities; while the Democracy at Work Institute helps expand the offering of democratic business ownership to communities impacted by inequality. 
Currently, Leaders Are at the Conclusion of the Program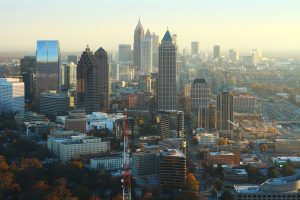 This initiative kicked off last year at an opening retreat in Boston. Since then, teams have participated in feedback sessions, visits from representatives from other fellowship sites, opportunities for technical assistance and feedback, and a closing retreat to discuss solutions for relevant obstacles. In the end, The Atlanta SEED Fellows team created a local business database to hone in on the types of businesses they should target for the employee ownership model. They are also preparing to introduce legislation to better categorize work ownership. 
The Potential Impact
The success of this program has far-reaching effects for the localized south Atlanta area and the city as a whole. If minority-owned businesses can continue even when business owners are no longer in the position to run their companies, it brings these advantages to the city:
Generating a new generation of business owners

– As older small business owners transition out of the workforce; a new generation of employees can benefit from the advantages of business ownership. 



Keep wealth within the area

– Instead of having to close businesses and force customers to go into another city or neighborhood to get what they need; the existing business ensures that money stays within the local area. 

Reinforce local anchor businesses

– From restaurants to barber shops, these enterprises are informal social anchors within the community. They not only provide services, but they may also provide a place for people to gather, communicate, and drive community-changing ideas. 
As the SEED Program fellowship comes to a close, fellows and representatives in Philadelphia, Atlanta, Durham, and Miami will get to see the long-term impact of co-op business ownership. Currently, many south Atlanta businesses are open to co-op business ownership but still feel a need to learn more about it. More education, outreach, and planning for obstacles need to occur for this to truly take hold. 
McCranie summed up the plan for reaching more businesses in Atlanta, "We're going to be hyper-attentive to the kinds of businesses and districts we want to target. We'll start small, get a proof of concept, and when we see that we're generating wealth, then we can expand."
---
The Atlanta Small Business Network, from startup to success, we are your go-to resource for small business news, information, resources.

Follow us on Facebook here and stay up to date or catch-up on all our podcasts on demand.
While you're here, don't forget to subscribe to our email newsletter for all the latest business news know-how from Atlanta Small Business Network.
This has been a JBF Business Media production.