As the rankings have down, entrepreneurship and innovation in Atlanta are on the rise. More and more startup and small business owners are making the city their own. Much of this is due to Atlanta's growing entrepreneurial ecosystem. From incubators to tech hubs, Atlanta is providing the infrastructure and support that small business owners need to thrive. 
A lot of this comes down to the capital projects established within the city. One new example is Coda, a recently opened mixed-use development project that houses Georgia Tech researchers, innovative technology companies, and coworking spaces to facilitate cross-interaction between sectors. While Coda may be the latest project to provide support for small business owners located in the Metro Atlanta area, it certainly won't be the last. 
So, what are the recent and upcoming building projects that could make a splash on the Atlanta business ecosystem? Check out our list below. 
AmericasMart AtlantaNEXT Project
Summer 2019 through Winter 2021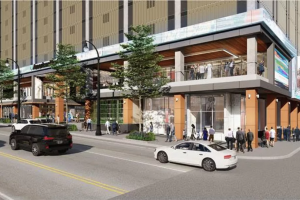 The 7.2 million square foot permanent wholesale trade center is undergoing renovations to better support sellers and customers. In 2018, International Market Centers (IMC) acquired the market. While much of the first phase of the project will include the addition of outdoor lounge spaces, a new restaurant, lounge, and modernized meeting and workspaces, the area will also be reconfigured to help business owners who attend market events at the location. 
IMC will add a reception desk to have someone available to help designers and merchants get what they need. The project will also make it much easier to integrate rug merchandising into the seller area, and will also consolidate open daily showrooms on each floor. 
WeWork Announces Plans for Downtown Decatur and Poncey-Highland Locations
Late 2019 
WeWork is the largest provider of coworking spaces. The company has ten locations that are already established or in the works. This year, Downtown Decatur and Poncey-Highland join the "in the works" category. The company just finished a deal with Cousin's Properties to take over the entire office space at 120 W. Trinity Place, a new mixed-use development project. WeWork will take up three floors and offer space for 540 visitors to work.
Along with Downtown Decatur, Poncey-Highland is also receiving the WeWork treatment. They are taking up 45,000 square feet in the 725 Ponce Development which is located near the Beltline's East trail. If you are located in this area and looking for a place to house the beginnings of your entrepreneurial or small business efforts, WeWork is providing the infrastructure to do it. 
Pittsburgh Yards
Recently Opened 
In 2006 the Anne E. Casey Foundation acquired the land that is now Pittsburgh Yards from UPS. Over the next 10 to 15 years, the location is meant to be an "economic catalyst" for the surrounding Pittsburgh and South Atlanta area. The 61,000-square foot area will house 100 small businesses. According to the website, 50 percent of hires for phase 1 construction will be local residents, 50 percent of permanent positions will also go to local residents, and 30 percent of the contracted construction values and lease agreements will go to women or minority-owned businesses. 
The area will include a soundproof welding area, studios for other trades, an indoor amphitheater for community meetings and product presentations, a commercial kitchen, and green space for outdoor sports. Pittsburgh Yards is not only looking to grab revenue, but the purpose of the area is also meant to empower the residents within the surrounding location. 
Short-Term and Extended-Stay Yotel Arrives in Underground
Autumn 2022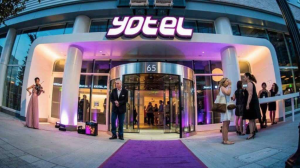 Yotel is a hybrid short-term and extended-stay hotel. The area will include 234 rooms for short stays and 117 "pads" for customers who need to stay longer. Yotel is known for its minimalistic décor and innovative use of technology in how they accommodate guests. It is the first hotel to sell by the hour 24/7, and it also includes a digital self-check-in process. 
The hotel is slated to include a communal and coworking space for tenants as well as a café and restaurant. The Yotel brand launched 12 years ago at Gatwick airport and now have over 30 locations all over the globe including business hubs like Boston and New York. This move not only shows how far Atlanta has come as a "business transit and visitation hub," but it also shows the validity of Underground Atlanta's new redevelopment project. 
Final Thoughts
Along with skyscrapers, visitors and residents alike will see just as many cranes in the sky of the city. Development is on the rise, and much of the work has long-term impacts on the city's business ecosystem. From WeWork coworking spaces to hotels aimed at on-the-go entrepreneurs who need housing flexibility, these developments show that the future is bright for Atlanta.
---
The Atlanta Small Business Network, from startup to success, we are your go-to resource for small business news, information, resources.

Follow us on Facebook here and stay up to date or catch-up on all our podcasts on demand.
While you're here, don't forget to subscribe to our email newsletter for all the latest business news know-how from Atlanta Small Business Network.
This has been a JBF Business Media production.