If you could create your ideal place to work, what would it look like? What benefits or perks would you include for workers? How would you facilitate a healthy culture? Well, others have thought about this question, and have done something about it. Every year, the Atlanta Journal-Constitution selects the "Best Places to Work" within Atlanta. The newspaper selects 20 large companies, 55 mid-sized companies, and 75 small workplaces.
We have chosen some of the awardees, and are sharing their tactics for motivating and inspiring employees.  
So, how do you build a workplace that not only satisfies but engages your employees to take your business to the next level? Take a look at those who have done it below.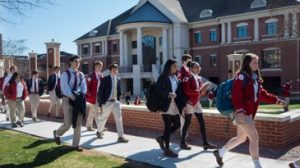 Listed number one in the top large businesses to work for category, with 661 employees, Woodward Academy has shown itself to be a premier workplace for those in the education industry. This business has been a staple in College Park for over a century. So, what makes this company soar to the top? For reviewers on Glassdoor, employee growth and professional learning are a major high point. Current and former workers commented on the school's offering of teaching resources and even educational reimbursements as a highlight at Woodward Academy.
How you can bring this to your organization: Regardless of your industry, employee learning and development is crucial to the growth of your business. Your business goals hinge on the talent and experience of your employees. So, see what skills you need from your staff to go to the next level and provide adequate training via affordable resources like Lynda.com, General Assembly, or Udemy.
Not too far behind Woodward Academy is Arrow Exterminators at number two. According to Glassdoor, 93 percent of employees would recommend this company to a friend. Also, 97 percent approve of the CEO. Both are exceptional numbers. So, what is keeping these employees satisfied with this company? Arrow Exterminators is family-owned, and this detail has seemed to positively impact the workplace. As a result, former and current workers pointed to the company's "great family culture," as a reason for enjoying their time at the company. Arrow also provides opportunities for community service and even offers rewards for a job well done.
How you can incorporate this: Giving back to your employees is an excellent habit to take up, and it isn't challenging to show this appreciation. This can be in the form of providing "thank you" notes for helping with a project or coordinating a catered monthly lunch. These actions not only give your employees a sense that you care, but it also fosters camaraderie. 
Taking first place for the top mid-sized company category is SalesLoft, a sales engagement platform. On Glassdoor, there is much talk of core values, driven teams, and employee growth. However, SalesLoft shines with its workplace flexibility. In many reviews, former and current employees mentioned that SalesLoft had a "results-oriented work environment," so the company is more concerned with getting things done instead of employees just showing up. As a result, many workers have been allowed to work from home or take advantage of a flexible schedule.
What you can take from their example: Providing your employees with workplace and scheduling flexibility shows you trust them. So, why not experiment with some alternative work arrangements? This tactic can look like letting employees work from home once or twice a week. You can also work with employees to offer schedules that work for them. Show them that you care more about results than their physical attendance.
Since 1947, Dorsey Alston Realtors has provided realty services to homeowners in and around the Buckhead and Cobb county areas. What has helped this company become the oldest privately-owned residential real estate company in Atlanta and number two in the top mid-sized company category? Company leaders have successfully created a culture of collaboration and information-sharing. Renovated workspaces have done away with cubicles, and the owner's private office was turned into a classroom. Agents then can connect, learn new information, and share what they know. Agents and brokers can even receive one-on-one coaching and participate in Q&A sessions with senior agents.  
How you can use this tactic in your company: Space can make or break a company work area. So, see where you can break down figurative and literal barriers. Make sure you have an area for workers to collaborate or meet just to talk and build relationships. Opt for partitioned areas and open spaces that allow workers to have privacy when they need it, but also gives them the chance to meet and work.
Taking the number three spot in the top mid-sized places to work category is Kabbage, a small business lending company. This workplace does all it can to make workers feel like they are at a home away from home. It makes sense as most workers are more likely to spend more time at work than at home. Kabbage provides snacks, catered lunches, in-office yoga, and even allows workers to bring their dogs into the office. These acts are likely the reason why 94 percent of employees approve of the CEO.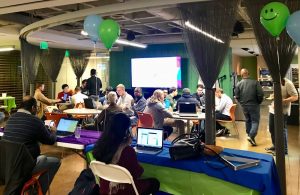 What you can do for your company: Maybe yoga isn't possible for you to provide at your company. That is totally fine! However, see how you can make the workplace a little more comfortable. You could allow for "dress-down" days, provide ergonomic chairs, offer low-costs snacks, and even designate a room for employees to decompress throughout the day.
Final Thoughts
These companies have figured out how to keep employees invested. Their tactics will likely lead to lower turnover and increased engagement. While you may not be able to use all of the methods above, see what you can do. Providing some low-cost snacks, offering flexible work start times, and creating opportunities for training can be enough to make you "the best place to work," for your team.
---
The Atlanta Small Business Network, from start-up to success, we are your go-to resource for small business news, information, resources.

Follow us on Facebook here and stay up to date or catch-up on all our podcasts on demand.
While you're here, don't forget to subscribe to our email newsletter for all the latest business news know-how from Atlanta Small Business Network.
This has been a JBF Business Media production.