A new High-level technology innovation hub has made its way to Midtown Atlanta. A decade ago, ideas for the new collaborative mixed-used development building, named Coda, were put into place. Fast forward to May 23, 2019, and the revolutionary building has finally opened its doors. 
Dubbed the "Southeast's premier innovation neighborhood," by Georgia Tech president, G.P. "Bud" Peterson, Coda is slated to offer unprecedented opportunities for collaboration between university researchers, students, and technology-related industries. So, what can we come to expect from this 645,000-sq. ft. of office and collaboration space? 
Take a look at what Coda is bringing to midtown Atlanta's technology and entrepreneurial ecosystem. 
A Gathering of Some of the Most Innovative Organizations in the State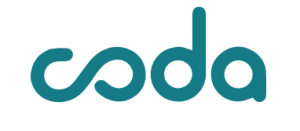 Georgia Tech leases fifty percent of the building. So, expect to see researchers, students, and school staff pushing the boundaries of technology-based academic research. However, Georgia Tech will not be the only people in the building. Elevator company, ThyssenKrupp, and electronics manufacturer, Keysights Technologies will also take up space in Coda. This place will indeed be a meeting of the minds of significant academic players and technology giants. 
Coda's Purpose
According to Chaouki Abdallah, Georgia Tech's Executive Vice President for Research, in a nutshell, Coda is meant to spur collaboration between academic and commercial sectors. Abdallah discusses why interactions between these sectors is crucial to the future: 
"Collaboration among different disciplines, and between academia and industry, will be critical to developing solutions to the complex societal challenges facing us in the years ahead."
Coda's purpose is to facilitate these connections and meetings. This purpose heavily impacted the design for the 21-floor building. Abdallah highlighted the buildings large spiral staircase. Through this design feature, he hopes for "unanticipated collisions and constructive interactions," between those working inside of Coda. 
Broadly, the hope is for more intentional collaboration to solve complex challenges. However, specifically, Georgia Tech will use the space to better process and understand large data sets across a variety of sectors and industries. As a result, the school's Office of Information Technology will be relocated to the building
What Can Workers and Visitors Expect to See?
From an 80,000 square foot data center to six three-story atria that allow workers to mingle and network, there is a lot to see at Coda. While most of the space will be taken up by employees of Georgia Tech, ThyssenKrupp and Keysights Technology, those who do not work for these companies and are looking for an innovative space to work can go even deeper into the building by visiting tenant, WeWork, a well-known provider of shared workspaces.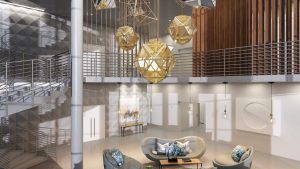 Each atrium is themed differently to bring design variety into the space. Some are meant for large group collaboration, while others are café and even soccer themed. Coda follows the 80-20 rule, where 80 percent of the building is an open workspace, while only 20 percent are enclosed private working areas. As a result, most of the building supports the purpose of collaboration and innovation. For those who want to visit, there will be 25,000 square feet of street-level retail space for shopping and eating. 
A Game Changer for the City
In 2016, Invest Atlanta estimated that Coda would bring over $813.8 million into the city over the next two decades. The work Georgia Tech is doing with data analytics has a far-reaching impact on a variety of sectors that impact Atlanta and the state of Georgia. With the city being a major fintech and healthcare hub, and the data entering Georgia as a result of these sectors, it is likely that these industries significantly stand to benefit from the information being analyzed at Coda. 
Consequently, companies now have the opportunity to be close to an academic institution that is processing and researching the data they need to better serve customers and solve problems. Coda will also serve as a space for entrepreneurs, freelancers, and even digital nomads to come together to work at WeWork while also having opportunities to interact with researchers and corporate professionals. This place will bring together the worlds of entrepreneurship, scientific research, and the gig economy under one roof. 
Coda is the first in a line of three upcoming building projects developed by Portman Holdings and John Portman and Associates. If the current buzz and potential impact of this one is any indicator, the city of Atlanta can expect more effective technological and entrepreneurial ecosystems like this one. 
Featured Photo Courtesy of https://codatechsquare.com
---
The Atlanta Small Business Network, from startup to success, we are your go-to resource for small business news, information, resources.

Follow us on Facebook here and stay up to date or catch-up on all our podcasts on demand.
While you're here, don't forget to subscribe to our email newsletter for all the latest business news know-how from Atlanta Small Business Network.
This has been a JBF Business Media production.