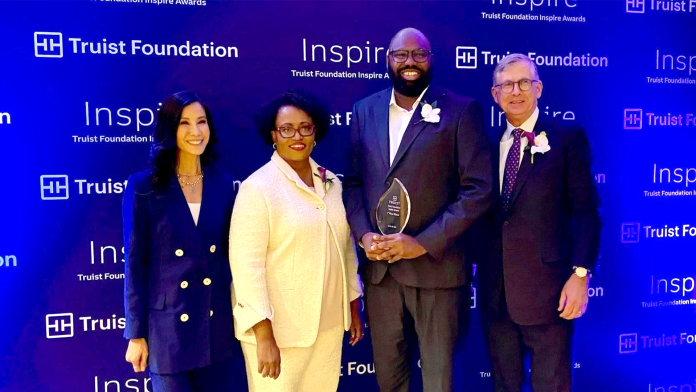 The Atlanta Wealth Building Initiative has been chosen as the top recipient of the inaugural Inspire Awards Grant in partnership with the Truist Foundation and Solve. The organization was awarded a $250,000 grant during an event hosted by TV personality and author Lisa Ling.
The Inspire Awards invites nonprofit organizations that support Black, indigenous, BIPOC, and women-owned businesses from across the country to submit innovative solutions designed to address challenges and roadblocks faced by small businesses. The program awarded over $1 million in grants to the winners.
Finalists also participated in a wraparound support program over the past months and will get the chance to attend a capacity-building retreat hosted at the Trust Leadership Institute next year.
"Our first Inspire Awards has been an intensive but incredibly rewarding experience. Reviewing submissions from over 127 nonprofits has shown us the breadth of good being done by organizations to address the key issue of systemic barriers facing small business owners," said Lynette Bell, president of Truist Foundation.
"Atlanta Wealth Building Initiative is a truly inspiring and deserving grant recipient, and we are so excited to see the change that will be made possible by this capacity-building funding."
About the Atlanta Wealth Building Initiative  
An expert panel of judges considered the pitches before choosing the Atlanta Wealth Building Initiative as the winner. The organization created a solution called the "1,000 Black Businesses in 1,000 Days Campaign." The plan is designed to address the racial wealth divide in Atlanta by strengthening Black-owned businesses through four main components:  
Research and Data

 – Identify existing gaps for Black-owned businesses, address challenges created by Covid-19, and create solutions such as encouraging capital providers to develop financial products that better support such businesses.  

Growth and Scale

 – Focus on the development of equitable anchor institution procurement collaboratives, create a shared services model, and provide technical expertise to support growth, sustainability, and capital access.  

Workforce Development

 – Create a pipeline of qualified employees with a focus on connecting neighborhood residents to new job opportunities in their communities. Workforce development, retention strategies, and anti-discrimination methods.   

Retention and Anti-Displacement

 

– Support strategic advising, advocacy, back-office support, pro-bono business succession, estate planning, creative land use and acquisition, affordable commercial space, and employee-owned transition models for legacy businesses.  
"It's an honor to accept the inaugural Truist Foundation Inspire Award on behalf of the entire Atlanta Wealth Building Initiative community," said Jason Hudgins, director of Strategic Programs for Atlanta Wealth Building Initiative.
"This initiative is not just about business solutions. It really is about looking down the street and seeing Black business owners – and the children they are raising – and understanding how one investment changes that family, the next generation, and a community for generations to come."
Truist and Solve – Partners in Providing Solutions   
The Truist Foundation is a branch of Truist Financial Corporation and was created to build better lives and communities through strategic investments in nonprofit organizations. The organization focuses on building career pathways to economic mobility and strengthening small businesses to help communities have more opportunities for a better way of life.
Truist's partner in the Inspire Awards program is Solve, an initiative from the Massachusetts Institute of Technology (MIT), which helped identify those proposals with the best chance of creating lasting change by supporting small businesses in under-serviced communities.
Additional Grant Winners 
Second-place winner, Synergies Work, was awarded a $150,000 grant for its proposal to strengthen connections between entrepreneurs with disabilities and the business community. The company was awarded an additional $75,000 grant after being chosen as the Audience Favorite.
Winners of the $25,000 grants included Beautiful Ventures, Black Wall Street AVL, Change Labs, Democracy at Work Institute, and Quality Care for Children.
---
The Atlanta Small Business Network, from start-up to success, we are your go-to resource for small business news, expert advice, information, and event coverage.
While you're here, don't forget to subscribe to our email newsletter for all the latest business news know-how from Atlanta Small Business Network.