"Time, energy, and focus; these are the resources at your disposal each and every day." Wise words from our next guest, Noel DeJesus, First Sergeant for the United States Army, author, and leadership coach. After three combat tours to Iraq and numerous distinctions, Noel decided to take his military expertise use it in the world of business leadership.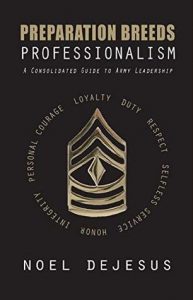 In today's segment, we discuss Noel's latest book, Preparation Breeds Professionalism, his own experiences with leadership throughout his service in the US Army, and some important qualities and characteristics that business leaders should have.
Noel has been serving in the US Army for 15 years and has received many honors and awards for his service, including the Combat Action Badge and the Bronze Star Medal. Throughout his military career, he has served several combat tours in Iraq and Afghanistan and has been placed in a variety of different locations, like Korea and Germany.
As a First Sergeant, Noel is responsible for the training and organization of approximately 100-200 employees. Noel says that he is not only responsible for the development of these soldiers, but also for teaching them organizational values, and a professional code of ethics. He says that the deployments and responsibilities he learned from the army, have served him well in a variety of different leadership situations. Which ultimately inspired him to publish the lessons and skills that he discusses in his latest book.
His book, Preparation Breeds Professionalism, really encompasses the army's leadership model and talks about the competencies and attributes of the army including character, presence, and intellect.
To find out more about Noel, be sure to watch our entire interview above.
---
The Atlanta Small Business Network, from startup to success, we are your go-to resource for small business news, information, resources.

Follow us on Facebook here and stay up to date or catch-up on all our podcasts on demand.
While you're here, don't forget to subscribe to our email newsletter for all the latest business news know-how from Atlanta Small Business Network.
This has been a JBF Business Media production.