On today's show, we're pleased to welcome Elayne Fluker, a business coach focused on helping women in entrepreneurship, and host of the Support is Sexy Podcast which has interviewed over 450 women and has more than 600,000 downloads.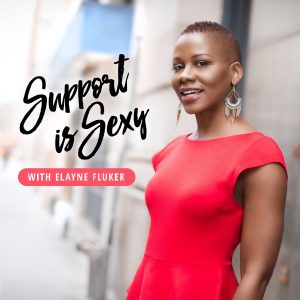 We first learn about Elayne's 20-plus-year background in media and how she got into the business of helping women build their businesses. As she moved through her career and networked with other women business owners, she realized that she and many other women had an aversion to asking for help and support. Elayne calls this the 'I-got-it' syndrome. Many modern businesswomen feel the weight and pressure of high expectations, and they hold on to the belief that strength equals doing it all.
However, during one event panel that Elayne attended, she coined the phrase 'Support is Sexy'. The idea behind this phrase was to encourage professional women to accept support and encouragement in their business and personal lives. It breaks down the idea that in order to be successful, you have to face every challenge and obstacle alone.
Fast-forward to now, and the Support is Sexy Podcast airs five days a week and features a wide variety of guests who open up about their professional successes and challenges in order to encourage and inspire listeners. But it doesn't stop there. Elayne also offers business coaching services, corporate training courses, and brand building resources to help take your business to the next level.
To find out more about Elayne, be sure to watch our full interview above, and visit her website here.
---
The Atlanta Small Business Network, from startup to success, we are your go-to resource for small business news, information, resources.

Follow us on Facebook here and stay up to date or catch-up on all our podcasts on demand.
While you're here, don't forget to subscribe to our email newsletter for all the latest business news know-how from Atlanta Small Business Network.
This has been a JBF Business Media production.