Marketing online via audiovisual channels such as YouTube, Dailymotion, and Vimeo is so widespread that many businesses overlook other ways they could use video. The power of online video marketing in terms of outreach, cost-efficiency, and effectiveness is indisputable and should be part of your marketing mix. But you can help your business stand out from the crowd by deploying video in-house and on-premise, too.
In-Store Video Ads and Waiting Area Enhancement
If you have a physical store, offices, consulting rooms, or a service facility, you're missing a trick if you don't integrate video into your customer experience. Rolling explainer and demonstration videos presented next to products in-store have a powerful effect, increasing conversions by up to 70 percent according to several recent studies. If you already have videos for your online marketing, you may not even need to invest in new material for your in-store advertising. You can just re-purpose existing properties.
If you have waiting rooms or other public areas, you have a captive audience. That audience gives you an opportunity to improve the customer experience while exposing prospects to your marketing messages and building the recognition of your brand. Judicious use of well-made video in those areas enhances the environment, eliminates the frustration of waiting, and allows you to further inform your clients of the value propositions associated with your products and services.
Live-Streaming In-House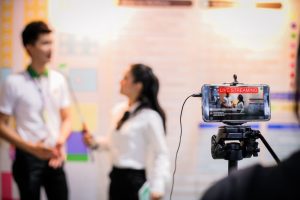 Often called a "webinar" (a combination of web and seminar), live streaming involves delivering audiovisual content in real time via the internet. Transmission could be via Facebook Live, YouTube, Dailymotion, Livestream, or any of several alternative third-party platforms. It's an efficient way to communicate and has the added advantage of being interactive.
A smart company can deploy video in this way for cross-department conferencing, on-boarding and training of new staff, motivational events, and meetings. Live sessions may also be recorded. Recorded webinars offer a valuable resource not only as an archive but for wider sharing, perhaps after editing, with other interested entities within the company. The webinars can be accessible to all or password protected.
Multimedia at Conferences 
Video can play a decisive role in enhancing the power and reach of your storytelling in conference settings. You can use it in multimedia presentations from the podium, at stalls, and in seminars. Video technology also enables you to livestream your conference presentations and record them for later distribution or education and analysis purposes.
Video is popular in marketing because if its multidimensional outreach, its direct communicative power, and the way in which video product can be repurposed in several ways from marketing, through recruitment, to on-boarding and education. If you have an online video marketing channel, with a minor investment in on-premise facilities, you can redeploy much of that content in-house. Likewise, as you develop your in-house and conference-based video content, you can repurpose it online.
The current dominance of audiovisual content marketing shouldn't blind you to the innovative and effective ways you can use video presentations offline. It just takes a little imagination, and perhaps minor infrastructure investments depending on where and how you mean to use it. But if your business has any sort of physical presence, you can enhance it with video.
---
The Atlanta Small Business Network, from startup to success, we are your go-to resource for small business news, information, resources.

Follow us on Facebook here and stay up to date or catch-up on all our podcasts on demand.
While you're here, don't forget to subscribe to our email newsletter for all the latest business news know-how from Atlanta Small Business Network.
This has been a JBF Business Media production.