Business credit cards differ from personal credit cards in many ways. It's essential to understand how they work, what benefits they offer, and how to choose the perfect one for your organization. The wrong credit card might be unsuitable for your business needs, but the right one can supercharge growth and help your people reach their potential.
Let's figure out how to choose your preferred business credit card provider.
What Are Business Credit Cards And What Are Their Advantages?
First, we need to understand what business credit cards are and how they work. Business credit cards for startups and small businesses tend to be similar to how your personal credit card works. They let you pay electronically for goods and services, and you can pay off the balance at the end of the month.
If needed, you can also carry forward your card's payment to the next month and repay it later. You can avoid late payment fees by simply paying the minimum amount required. This can be a boon for new and small businesses dependent on business cycles for profitability and growth. If your business suffers from a slow month, a credit card can help you make ends meet until you can repay your balance.
However, small business credit cards go beyond just this. They have features that let businesses manage their finances more effectively. For instance, many credit cards offer businesses discounts and rewards on goods and services they frequently purchase.
Your employees can redeem these rewards for airfares or additional purchases. Moreover, a business credit card makes it easier for them to pay work-related expenses seamlessly and quickly. Plus, you will have a complete overview of their expense history.
Business credit card providers also tend to have a very flexible definition of who can qualify for them and who cannot. You do not need employees or even be incorporated to get a business credit card. In fact, even freelancers and self-employed sole proprietors are eligible for them. This can be immensely advantageous during tax season since you can easily separate your business and personal expenses by dividing them between your two credit cards.
How To Choose The Perfect Business Credit Card
Now that you know what a business credit card is and what it can do for you, let's explore how to decide which one suits you best. Here are three things you ought to consider:
Do You Need Help Making Ends Meet?
The primary benefit of a credit card is the ability to help you pay for essential inputs, even when you might not have the money on hand. Once you sell your products or services, you can use the revenue to pay off your debt. This makes them perfect for entrepreneurship because you will not need to worry about securing the funds to clear each month during your early days.
So given the prevailing uncertain economic situation, you have to calculate if you want the safety net offered by a credit card. You should also figure out if you need to make big purchases soon, such as equipment and machinery, and if you would like to use a credit card.
To do this, determine how much money your business spends in a month and how much profit you generate. Keep a close eye on the economy, too, so you know what your business's future outlook is in the short term.
Do You Or Your Employees Travel Frequently?
You should consider getting a business credit card if you or your employees frequently travel for work-related purposes. Benefits such as seamless payments, separate business expense data and rewards are well worth it.
Indeed, just having a separate business credit card can give your company an air of legitimacy that can prove invaluable when entertaining guests or traveling. Moreover, credit card rewards can help you eliminate airfare costs and receive cash paybacks.
Do You Need Something Affordable Or Premium?
Unsurprisingly, different credit cards have different fee structures. What you need to figure out is which one is suitable for you. Not everyone needs the most premium, deluxe business credit card. Conversely, getting a business credit card other than the most expensive one does not make sense for some.
For one, look at their annual fees. More expensive cards cost upwards of $500, whereas cheaper ones cost $100 per annum. Of course, premium credit cards have their share of features, such as more generous rewards.
Also, look at the interest rate they would charge on the unpaid balance and the conditions surrounding them. Your firm's credit rating will determine this interest rate.
Lastly, you should see if they have any transaction or penalty fees – although not all credit card providers have them. Some will charge you a transaction fee on certain purchases, such as those made on foreign soil, which will either be a percentage of the transaction or a flat fee. Others might charge you a penalty fee for late payments.
Of course, the more features a credit card offers, the more demanding its fee structure is. So make sure your business can afford these fees and take the risk only after you understand all the factors involved.
What Are The Top Business Credit Cards?
Based on our own research and analysis, we have put together this table with the top three business credit cards, what they are good for, and why: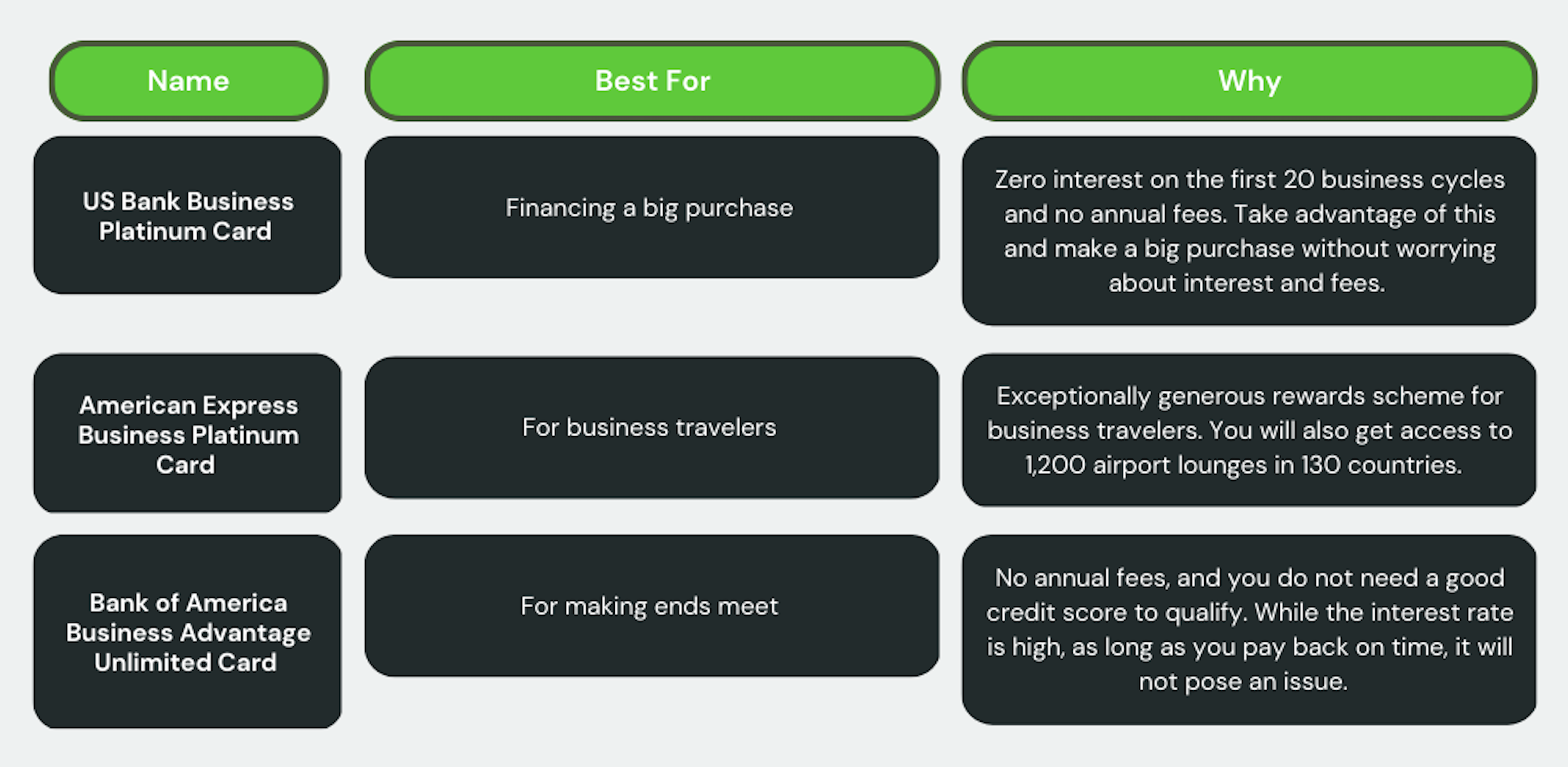 Wrapping Up
A credit card can be essential for a regular person to ensure they have a financial safety net if they need additional funds at the last minute. Credit cards for business can do the same – and much more.
Thanks to them, thriving small business owners and budding entrepreneurs can ensure their company's success. With this guide, you can now research and choose a business credit card for yourself and your employees, and enjoy the many perks it has to offer.
---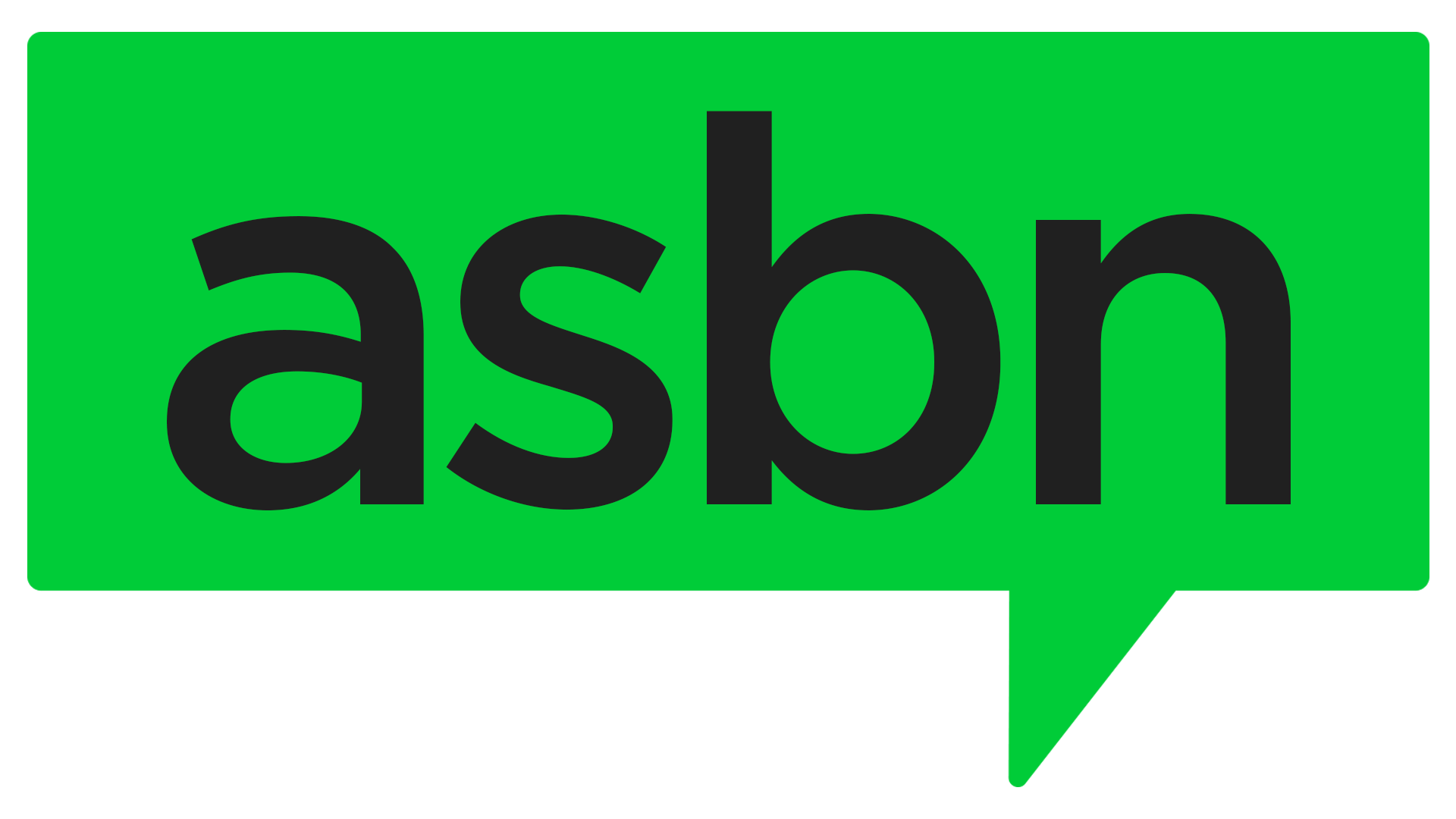 ASBN, from startup to success, we are your go-to resource for small business news, expert advice, information, and event coverage.
While you're here, don't forget to subscribe to our email newsletter for all the latest business news know-how from ASBN.