[Previously aired 6/14/19]
Utilizing the influence of social media marketing can help your business widen its audience reach and expand its customer base in a dramatic way. But getting started without any clear direction or previous experience is challenging to say the least. Here to give us some insight into effectively leveraging social media marketing is Mark Schaefer. Mark is a global marketing thought-leader, best-selling author, and sought-after business consultant. His clients include Pfizer, Dell, and Adidas, and his work has appeared in CNN and The New York Times.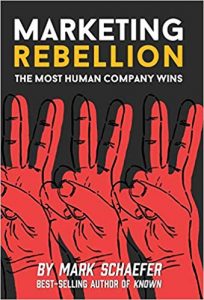 In this segment, Mark begins by discussing how social media trends interact with ever-changing business trends. One of the more prominent social media trends discussed was influencer marketing. Mark described for us what influencer marketing is how it can be used effectively.
Jim and Mark then tackled how important it is for a business to have a clear and defined social media strategy, as well as what entrepreneurs can do to make their social media profiles to stand out from the crowd. One of the ways to stand out, according to Mark, is utilizing content marketing in tandem with your social media strategy. This advice and more can be found in Mark's new book "Marketing Rebellion: The Most Human Company Wins".
---
The Atlanta Small Business Network, from start-up to success, we are your go-to resource for small business news, expert advice, information, and event coverage.

Follow us on Facebook here and stay up to date or catch-up on all our podcasts on demand.
While you're here, don't forget to subscribe to our email newsletter for all the latest business news know-how from Atlanta Small Business Network.
This has been a JBF Business Media production.