Welcome to another episode of The Female Founder with Bridget Fitzpatrick, Co-founder of ASBN and the CBT Automotive Network. The Female Founder is a show all about helping women grow their businesses and reach their full potential. Each episode will highlight inspiring stories and advice from female entrepreneurs to help you build and grow your business. This show is designed to inspire and motivate other female founders to be the best entrepreneurs they can be.
Today's guest is Jenette Goldstein, former award-winning actress and founder of Jenette Bras, a bra-fitting boutique specializing in sizes D through K.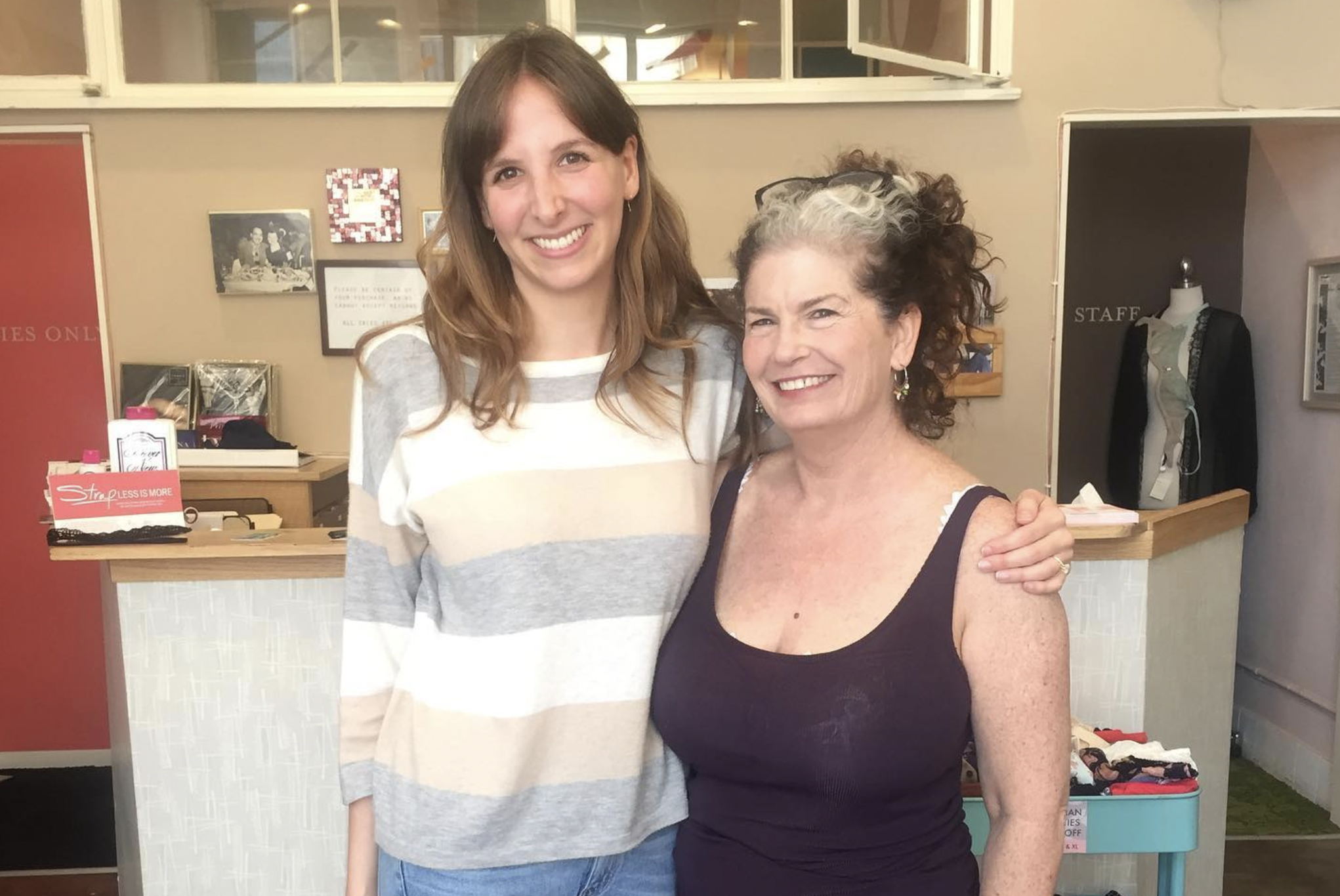 Transcription: 
Bridget Fitzpatrick:
Jenette, thank you so much for joining us today.
Jenette Goldstein:
Thank you for having me.
Bridget Fitzpatrick:
Yes. Now I've never interviewed an award-winning actress before, so can you tell us some of the movies that you've been in the past?
Jenette Goldstein:
So I was in, my very first film was Aliens, James Cameron's Alien. I played Private Vasquez. I was in Terminator Two and Titanic. Bunch of films.
Bridget Fitzpatrick:
Big ones.
Jenette Goldstein:
In the eighties. I was very big in the eighties.
Bridget Fitzpatrick:
That's great. Now, how did you go from being an actress to getting into the bra-fitting boutique business?
Jenette Goldstein:
Oh, isn't that a usual jump? I don't know. Doesn't everybody? It was very crazy. It just happened to be when I got into my mid forties, an actress, a character actress, the jobs get a little thinner unless you become a superstar. And I was writing and directing but I was also very uncomfortable in my bras as many, many women are. I discovered these wonderful bras in Europe, especially for women who have a small ribcage and a large bust. Not plus size, really plus plus. And I just started complaining and thought, why doesn't somebody do this in Los Angeles? And my husband said, why don't we do it? Was as simple as that.
Bridget Fitzpatrick:
That is pretty simple. Now I'm sure when you first started, you did come across some challenges. Did you find that to be the case that you had to overcome right away?
Jenette Goldstein:
Oh, absolutely. Absolutely. I mean I didn't know anything about business. Well, I say I didn't know anything about business, what I did know though, was the most important thing I feel, is there's a need. You have a need that nobody is filling and you provide that. And what I wanted was not only the product, a quality product that worked, that last, that was beautiful, I wanted service. I wanted connection. And I wanted honesty when I was dealing with the person I was walking into a store.
Bridget Fitzpatrick:
Yeah, absolutely. Now during the pandemic, some businesses did really well and other businesses suffered greatly. How has Jenette Bras fared during this time? And did you have to pivot like some others?
Jenette Goldstein:
Well, it's interesting. So we, to be quite honest, we suffered greatly. We did not sell online, we still don't. We sell our lounge wear online, small, medium, and large, but no, we are a service business. Bras need to be bought while you try them on. So it was a challenge. It was a what, if you could never walk into the store and speak to a human being. So we … I don't know if I'd call it pivoting. It was basically trying not to drown. We started doing fittings via the computer because we fit by eye, not with a measuring tape. So we were able to … We had a huge loyal clientele and we did fit, but we did our best. Our customers bought gift certificates. We reopened when we could and we kept working and we kept paying off our debts until finally we were able to do it again. And we're back better than ever now.
Bridget Fitzpatrick:
That's fantastic. Now, since we can't buy your bras online, can you tell us where your stores are located?
Jenette Goldstein:
Oh yeah, sure. We're in Atlanta, in Decatur, in Downtown Decatur which is amazing. The incredible thing is that the Atlanta store is the second most popular store now of all of our stores.
Bridget Fitzpatrick:
Fantastic.
Jenette Goldstein:
And we're opening one in Buckhead in the spring. And then we also have our original, we have four stores in Los Angeles.
Bridget Fitzpatrick:
How exciting, very exciting. Congratulations on all your success.
Jenette Goldstein:
Thank you.
Bridget Fitzpatrick:
What advice would you give to those women that are thinking about starting a new business?
Jenette Goldstein:
I would say that you do not have to know everything to get started. I knew nothing about money and finance. I still know very little. That is not my strong suit. However, now I hire someone. But what you do have to know is what you're passionate about. Something you want to right, a wrong that needs to be righted. Something that you cannot find that you would go anywhere and do anything to get. And you ask questions. You don't think you have to know, you say, "Sorry, I'm confused. Can you explain that to me in a different way?" And I just think a certain kind of a mixture, a humility, that you don't have to know everything. You learn like everyone else.
Bridget Fitzpatrick:
Yeah. That's great advice. Now you have a staff. So can you talk to us about your leadership style?
Jenette Goldstein:
My leadership style. I think I am naturally sort of an autocratic sort of person to be quite honest. I was brought up if you want something done, you got to do it yourself. I was brought up by a single parent. I was a single parent for many years. And you know, as an artist, you do. You do it yourself. You can't wait on people. However, as you grow, you absolutely have to pivot to a more democratic style. And I am definitely learning that if you want to grow and not be exhausted, you need to ask for help. You need to coach people. You need to delegate. You need to step back. So I've definitely become much more democratic.
Bridget Fitzpatrick:
Yes. And it's hard to do. I know, but very necessary as you say so.
Jenette Goldstein:
Yeah. Yeah. Yeah.
Bridget Fitzpatrick:
Now, is there anything that you've brought to your business today that you learned in your acting career?
Jenette Goldstein:
Oh, absolutely. I mean, every day. Actors are incredibly sensitive people. We improvise, we listen, we react. And I think that's the key to when you're dealing with people, when you're dealing with women, with intimate articles of clothing, you change and you don't keep talking and tell people what they want. You take in and you respond. So I think my acting training has been a very good business foundation.
Bridget Fitzpatrick:
Now your company focuses on a specialized customer experience. Talk to us about the importance of great customer service.
Jenette Goldstein:
Well, I think customer service is the key to, I don't know, to everything. I mean, I personally am not … I don't call myself a business person in a way. I feel like this business is sort of an art project. We laugh, my husband's an artist, I'm an actress and we create this thing we call retail theater. And you walk into an environment, and women, especially when they shop or they go get their hair, you're looking for connection. I mean, yes, you want to not waste your money and you want value for it. And you want the object to be good, but really it's to talk to another human being. And that to me, that's why we decided not to go online because really where it is, is one woman speaking to another woman about her divorce, about her marriage. Every time you go in to get a bra, mostly it's an event. You've gotten married. You've gotten divorced. Your friends have taken you out to cheer you up. So you are as a bra fitter … I mean, customer service is everything.
Bridget Fitzpatrick:
Yeah. Yeah. That human connection. I like what you're saying there, for sure. Especially during these times.
Jenette Goldstein:
Yes. Yeah. Yes. And that's exactly. So during these times I was like, well, I'd always thought what if. What if you could never walk in and see another human being? And then all of a sudden it was like, well, here we go. And I was sure that if we came back, if we survived, I would never have to explain again why what I'm doing is important.
Bridget Fitzpatrick:
So running a business sometimes has its challenges as we both know, and they can really get you down. So how do you keep yourself motivated and positive during these challenging times?
Jenette Goldstein:
That's a very good question. Yeah. Well, I went for long walks and that's one of the reasons why I love Atlanta, why I stayed in Atlanta during the heart of the pandemic and didn't go back to Los Angeles, is just being able to walk out and see the trees and just walk. That's my way. I'm trying to read books more again, just to calm myself down. Because my phone is binging, you know, you're like being pinged and slack and there's all this tech, but to me, this is trying to keep myself as healthy as possible.
Bridget Fitzpatrick:
That's good. You have to take care of yourself if you can take care of a business, right?
Jenette Goldstein:
Yeah, you really do. Yeah.
Bridget Fitzpatrick:
So, you started in California. And what brought you to Atlanta?
Jenette Goldstein:
Well, my family's from Atlanta. My mother's family are all from Virginia Highlands, way back, the turn of the century. So I would spend my summers and my vacations back and forth at my grandparents and my cousins between Atlanta and Los Angeles. And just recently, it also has to do with the film industry. So many of my friends were making films and working in Atlanta. So it just seemed perfect.
Bridget Fitzpatrick:
Very natural progression for sure. If we were having this conversation five years from now, what does the future look like for Jenette Bras?
Jenette Goldstein:
Yeah. Well, we are going to … Like I said, we're opening our sixth store in Buckhead and we're looking for other cities to go to. I love other cities. I love cities. I'm a city girl, Los Angeles, Atlanta, New York. So that's what it is. It's sort of to slowly organically build the company from people first. I mean, we just hired our staff for Buckhead and they're wonderful, but that's the key, is building the people. So that's in the five years, I don't know, expect us somewhere more in the Southeast or … I'm not really sure.
Bridget Fitzpatrick:
Awesome. Well, we can't wait to see what's next for Jenette Bras. I'm sure the success will continue. Congratulations on your success. And thank you so much for joining us today.
Jenette Goldstein:
Thank you.