On today's episode of The Atlanta Small Business Show our host Bridget Fitzpatrick welcomes special guest's famed fashion designer Rebecca Minkoff, Alison Wyatt, founder of the Female Founder Collective, and Jamie Sears, head of community affairs at UBS Bank.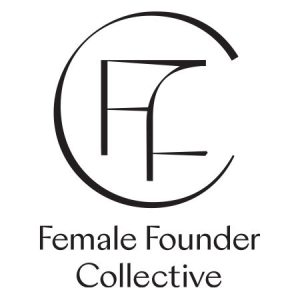 Today they will be discussing The Female Founder Collective , a network of businesses led by women, supporting women. Their mission is to enable and empower female owned and led businesses to positively impact our communities, both socially and economically.
Host Bridget Fitzpatrick, a proud member of the collective, starts today's interview by speaking one-on-one with Rebecca to undercover her entrepreneurial journey and how exactly she got started. Then Alison and Rebecca discuss the startup of the collective, why they decided to launch FFC to help support other female entrepreneurs and how they are achieving that mission.

Recently partnering with the FFC, UBS, the world's largest global wealth manager, has had a similar mission to help women take their businesses to the next level. Jamie, a representative for UBS joins the conversation to tell Bridget more about Project Entrepreneur, which UBS launched in 2015. Project Entrepreneur is a program for female founders and has already trained more than 1600 founders. The next phase of Project Entrepreneur, which they are doing in partnership with FFC is about changing the status quo for women. Together they are going to sharpened the focus on increasing investment readiness, building bridges to capital, and strengthening the ecosystems around women to help them succeed. 
Tune-in to the interview to find out more or visit Female Founder Collective or Project Entrepreneur.
—-
Video Transcript
Bridget Fitzpatrick:
Hello everyone, and welcome to the Atlanta Small Business Show. I'm Bridget Fitzpatrick. Women owned businesses are the fastest growing segment for entrepreneurship in the U.S., and these are challenging times for women led businesses when it comes to support and getting capital for their businesses. I'm excited to talk about a couple of resources that are doing just that. The Female Founder Collective has partnered with UBS, and they are on a mission to help women take their businesses to the next level. And here to talk about this is Alison Wyatt, the founder of Female Founder Collective, Jamie Sears, head of community affairs and corporate responsibility for UBS, as well as Rebecca Minkoff, fashion designer and founder of the Female Founder Collective. Thank you so much for joining us, ladies.
Bridget Fitzpatrick:
Rebecca, I'd like to start with you. Now, every woman knows your global brand, Rebecca Minkoff. Can you talk to us about your entrepreneurial journey and how you got started?
Rebecca Minkoff:
Yeah, I kind of got the sewing bug when I was eight years old. I wanted this dress. I just wanted my mom to buy it for me. And she said, "No, I won't buy it for you, but I'll teach you how to sew." And that thread kind of ran through my life. So whenever I wanted something, she said, "I'll buy you the materials and I'll help you learn how to do that." So I think that idea that I could create something out of nothing just really fueled me and kept me inspired. And so it was all I could think about. When I was 18, I said, I've got to move to New York. I've got to try my hand at design, and started my journey.
Rebecca Minkoff:
Rather than going to college, I got an internship with a designer and that was the beginning. And so I think the idea of being raised with we're not handing you anything, if you want it, you figure it out, was kind of the bug that I still have to this day.
Bridget Fitzpatrick:
Did you acquire any outside funding for your company?
Rebecca Minkoff:
So for the first seven years, we bootstrapped. My brother maxed out his credit cards. He had had a semi-successful software business, and so he was able to leverage his credit lines. He then mortgaged his house, and then we were able to partner up with a bank, specific to the fashion industry, a factoring company that would advance us money on our purchase orders. And then in 2012 we did our first round, and then in 2014 we did another.
Bridget Fitzpatrick:
All right. Now Alison, you have launched several very well known companies, including Goop and Girl Boss. Can you talk to us about what you're doing to help women led businesses today?
Alison Wyatt:
Yeah, so I was super excited to partner up with Rebecca on this, because she's obviously a global brand and somebody I had known from the sort of female founder circles, and really respected her because she was balancing work and running a business and her family. She has three little ones, and I followed in her footsteps with that. So I was really excited to reach out to her, because I came from Girl Boss, and at Girl Boss we sort of started off serving female founders, and we expanded from that mission. But it was the thing that really was near and dear to my heart, and where I found there was the biggest need and where I felt we could make the biggest change.
Alison Wyatt:
So when I left Girl Boss, I had been advising small businesses and female founders on the side in addition to investing in them, and reached out to Rebecca and we talked a lot about what we felt we could do together to grow and support female founded businesses through this really strong community in addition to education.
Bridget Fitzpatrick:
Now Rebecca, I'm excited that I'm now a member of the Female Founder Collective. Can you talk to our audience about what that is and what was the motivation behind starting it?
Rebecca Minkoff:
Yeah, I think it started out of a desire to have a community of founders who, you know, we say all the time, you can't make this you know what up, and so could you have a community of women who have been through it as founders, who can give you the shortcuts, the tricks, the tips, the roadblocks, the landmines to avoid. Also, I think when you start a business and you have a passion, you don't necessarily have the Harvard or Wharton education on the business side, and so how can we be a resource for education for founders in stuff that's not the sexy stuff, right?
Rebecca Minkoff:
It's not how to look good on Instagram, but it's what alleys and had how to raise capital, how to do a pitch deck, what is your CRM platform? So lots of tools and resources, and then how a seal whereby, you know, as a mom I check to see if things are organic ,and could you turn over something and know that it was women owned and really easily no brainer. Give support to another woman of business. And there's 12 million in the U.S. and so we have a global goal, but I think to start, let's get all these 12 million businesses more attention, more support, and more resources.
Bridget Fitzpatrick:
Jamie, UBS and the Female Founder Collective recently partnered on a very special project called Project Entrepreneur. Can you talk to us about the program and why you are partnering with the Female Founder Collective?
Jamie Sears:
Yeah, we're so excited to partner with FFC on this next phase of Project Entrepreneur and an investment readiness program. Just for some background, UBS is the world's largest global wealth manager, and we're just a firm that actually knows a lot about how to support entrepreneurial success. And the fact is that women continue to be the fastest growing group of entrepreneurs, and our country's most dynamic asset, starting like 1800 businesses a day and generating something like 1.8 trillion in annual revenue.
Jamie Sears:
So it's really our belief that investing in female founders is one of the greatest opportunities of our time and has a lot of exponential benefits for society, as well. So back in 2015 UBS launched Project Entrepreneur, a program for female founders, and our experience creating these new on-ramps for entrepreneurship for women across the country, training more than 1600 founders, including some amazing entrepreneurs from Atlanta, really laid bare to us the reality of and access to capital gap. And so while our alumni had some success, they went on to raise nearly 15 million in capital, the truth is that women as a whole are receiving such a small percentage, a small fraction of the investment and lending dollars available.
Jamie Sears:
So this next phase of Project Entrepreneur, which we're doing in partnership with Female Founder Collective is about changing the status quo for women. And we're going to have this sharpened focus on increasing investment readiness, building bridges to capital, and really strengthening the ecosystems around women to help them succeed. I mean, I just say that for us we couldn't be more excited to partner with FFC. They're an ideal partner for us. It's really the depth of the female founder community, 5,000 plus women-led businesses nationwide and counting.
Jamie Sears:
And as you heard from what Allie and Rebecca each just shared, this unique experience and expertise as founders who've scaled their own companies, which is just such an invaluable asset to us as we not only help founders who are trying to figure out now in light of what's happened with the COVID-19 crisis, how to make sure their companies survive, but having to rethink their business models and how they're going to access capital to grow. This is a great time for us to be coming out with this program, and we couldn't be more excited to work with FFC on it.
Bridget Fitzpatrick:
What is the criteria for women led businesses that may want to apply?
Jamie Sears:
Our first cohort applications for the investment readiness program, the first cohort, has come to a close, but our programs are free. They're for founders of early stage companies who are looking to raise money, and generally speaking, to qualify, we're just looking for startups that have a viable prototype product or service that has the potential for exponential growth. So we're actually going to be hosting a virtual capital access summit next month and be covering some of the great content that's going to be delivered by very well known investors, entrepreneurs, operators, women like Rebecca and Allie, for example. And some of that content is going to be around fundraising fundamentals, establishing growth strategy, what that fundraising roadmap is going to look like, how to close on the investment on the deal.
Jamie Sears:
So look out for more information about that. We'll have it posted on projectentrepreneur.org. But that's generally speaking the kind of companies we're looking to support and I think just the content that we feel like it's going to be really valuable for them.
Bridget Fitzpatrick:
Okay. I'd like to ask this last question to each of you, and Rebecca, I'll start with you. In these uncertain times with the coronavirus, do you have any advice for women led businesses and what they should do to kind of get through and cope?
Rebecca Minkoff:
Yeah, I think speaking through what we're going through every day is, you know, take the time now to pivot, to get aggressive with what are you spending your money on, how do you sort of hold your cash, how do you pare down unnecessary expenses first and foremost? And then in spite of all that, how do you keep promoting? How do you keep getting the word out there as organic and as cheaply as possible? And really focus with the teams that you have on, you know, we have a huddle every morning where we're like, this is the most important aspect for us. If we only do one thing today because we're homeschooling our children and whatever else we're doing all day, this is the goal. And so galvanizing your team around re-prioritization and test.
Rebecca Minkoff:
We are testing stuff every day, whether it's on social or co-marketing, or how do we get new email addresses. And so I think that now's your time, and just get ready because when this opens up again, the louder you've been now the more people will also, when they're in a position to purchase again, if they can't right now, they'll remember you
Bridget Fitzpatrick:
Awesome. Great advice. Thank you. Now, Jamie.
Jamie Sears:
Yeah, this is a challenging time. So I think knowing that there are resources available and that there's absolutely, the whole world is rooting for female founders to succeed. I think that there was definitely a sense of relief around seeing the paycheck protection program being approved by Congress. I think just seeing the leadership of mayors like the one that you have in Atlanta, Keisha Lance Bottoms, she was really one of the first mayors to secure funding for small businesses in cities. And I think that kind of leadership really matters.
Jamie Sears:
But I bring this up just because from a resource standpoint with what we're doing with Project Entrepreneur, the great support that FSC provides to its members, there are things out there, and I think feeling less alone and more connected and knowing that people really want to see founders succeed. So we should reach out for support and look at those resources and just know that the world needs what they're doing. And even if it's doesn't feel like it, we will come out of this at some point, and some of the growth opportunities will be there and hopefully we'll be stronger.
Bridget Fitzpatrick:
That's a really good point. What about you, Alison?
Alison Wyatt:
Yeah, I would lean into what they both just shared, but in terms of Jamie's note around resources, one just quick plug for FFC. Our mission has always been to help female founders and small businesses. So what's nice is that we're able to do that at a more rapid pace right now that's based upon the feedback that we're getting inside of the community around what they need, whether it's understanding how to manage to have greater cash balance, if it's breaking down the Payroll Protection Act, if is looking at how to market at a time of crisis and be asking consumers for money in a way that is more human.
Alison Wyatt:
We're sort of taking all of these big topics that are real pain points and then creating programming with domain experts so that people feel that they're not only connected to each other, but they're getting advice from a credible expert in the field. The one other thing I would say to sort of piggyback on what Rebecca was talking about, is drilling down on your KPIs and ensuring that your team feels that they know what those are so that they're able to be iterative and experimental and innovate alongside you, because your team is going to be your biggest asset. And if we're all working remotely, it's going to be even more important that they understand what their objectives are so that they're able to contribute to the success of the company.
Bridget Fitzpatrick:
Okay, ladies, thank you so much for joining us on the Atlanta Small Business show. I really look forward to talking with you again soon.
Rebecca Minkoff:
Thank you.
Jamie Sears:
Thanks, Bridget.