Atlanta has grown into a thriving ecosystem for entrepreneurs, small business owners, and aspiring business leaders. With an ever-increasing number of co-working spaces, accelerators, and incubators, business learning opportunities are happening throughout the year. Whether you want to find out how to create a marketing plan or grow your client base, there are a variety of events in the city to educate you. So, pull out your calendar and check out our list of six small business events in March and April that can help you thrive.
March 5 at 10:00 AM, March 12 at 10:00 AM, and March 19 at 11:00 AM
Location: Atlanta Tech Village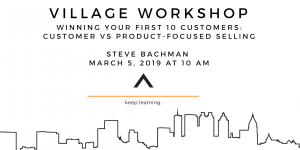 Atlanta Tech Village and TechStars Mentor, Steve Bachman, leads a three-week session to help small business owners develop a plan to attract their first ten customers. Each event will include an interactive format that provides tips and creative strategies for turning fans into customers. The first event will focus on selling solutions, the second will address strategies for getting the attention of prospects, and the last session will help business owners guide customers to final sales. If you decide to register for the remaining sessions, you can do so by heading to the bottom of the page once you visit the link above. There, you will find a listing for the other sessions.
March 8 at 8:00 AM
Location: General Assembly
General Assembly has partnered with the Atlanta Beltline Business Breakfast Series to allow leaders to share their insights on significant topics affecting businesses. In honor of National Women's Month, General Assembly has invited Karen Houghton, vice president of the Atlanta Tech Village and Anna Ruth Williams, founder, and CEO of ARPR to discuss the unconscious biases affecting women working in today's workplace. Houghton and Williams will also go over steps business owners can take to ensure they are creating inclusive pipelines and strategies to combat these biases. Attendees can look forward to a Q&A and opportunities for networking.
March 13 at 6:00 PM
Location: Roam Perimeter Center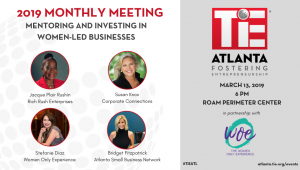 Georgia is second in the nation for women-owned businesses started. As a result, there are a lot of influential female business owners within the state of Georgia and the city of Atlanta. So, in honor of International Women's Day, TIE Atlanta's monthly meeting will bring together several of the city's female start-up owners. Attendees can network with other business owners and hear from an accomplished panel of female business leaders.
March 13, March 20, March 27, April 3 at 11:30 AM
Location: Advanced Technology Development Center
Do you know what investors expect you to know about business finances? Do you know what you would like to see regarding your own business financial model? This four-part financial literacy workshop series will give attendees a better understanding of relevant business models. These workshops sound like an excellent option for those who are handling their accounting and financial management activities themselves. However, be sure you have attended the Customer Discover Lab before registering for the session. Also, you can register for the other workshops here.
March 26 at 6:00 PM
Location: Strongbox West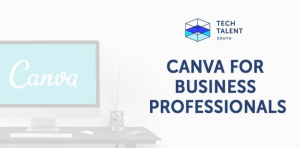 If you are a one-person small business marketing team, it makes sense to find as many low-cost resources as possible. This Canva for Business Professionals event held by Tech Talent South is the perfect event for those who want to hone their experience in DIY marketing. Canva is a free graphic design platform, and this event will take attendees through the user interface, functionality, and features of the platform. Attendees can also look forward to gaining helpful tips and best practices on utilizing Canva.
April 2 at 6:30 PM
Location: General Assembly
Again, marketing is a pivotal component of the business development process. Also, while history has been with print marketing, reaching today's customers depends on having expertise in digital media messaging. General Assembly is offering an introductory digital marketing session for those looking to take their branding and messaging to the next level. From creating a digital marketing campaign to identifying key performance indicators (KPIs), this event will give small business owners and entrepreneurs a digital marketing foundation.
Final Thoughts
Atlanta has a variety of opportunities for business learning, networking, and scaling up. However, while many events are valuable, some can be pricey. Fortunately, you won't have to break the bank to attend many of the events above as most are low-cost or free. So, take out your calendar and see which of these events will benefit your business growth. You may be surprised at the education and connections you can utilize to make your small business thrive.
Photo credit: https://hub.tie.org/e/marchmm
---
The Atlanta Small Business Network, from start-up to success, we are your go-to resource for small business news, information, resources.

Follow us on Facebook here and stay up to date or catch-up on all our podcasts on demand.
While you're here, don't forget to subscribe to our email newsletter for all the latest business news know-how from Atlanta Small Business Network.
This has been a JBF Business Media production.