More and more businesses are now storing their abundance of data and sensitive information in cloud services, provided by the likes of Google, Microsoft, and Apple. And as that technology becomes more sophisticated, so do the security practices and strategies that your business should be paying attention to. Here to tell us more about lowering cyber risks, and preventing security breaches is Bart McDonough, Founder, and CEO of Agio and best-selling author of "Cyber Smart: Five Habits to Protect Your Family, Money, and Identity from Cyber Criminals".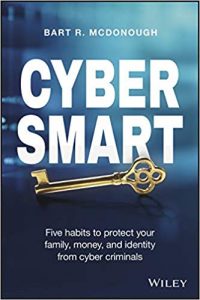 To identify cyber risks in your small business, you must first identify the sensitive data types that your business has. According to Bart, sensitive data and valuable date don't always align in the mind of the business owner. While a W2 may not hold a lot of significance for a business owner, if that W2 were to fall in the wrong hands, the employer would be held responsible and forced to pay any fines or damages. Bart also says that often, there is a bit of cognitive dissonance around cyber attacks. While we read or hear about them almost daily, we never believe it will happen to us.
Bart says that business owners should look out for two large types of cyber threats. The first being any unusual activity that diverts their payments. Wire transfers, vendor payments, and even payroll are vulnerable avenues for criminals. The second threat is ransomware. Make sure to keep your computers and machines free of malware.
Bart also has five "Brilliance in the Basics" tips for good cybersecurity which include:
Update devices
Enable 2-factor authentication
Use a password manager
Back-up your data
Make sure you have an anti-virus installed
These are the habits your business needs to adopt. If you implement these principles and use them consistently, you can almost entirely eliminate yourself from cyber risk. If you do happen to make a mistake, one of these five fail-safes will catch it, and limit the damage that is done. For these five basics and more, check out Bart's latest book, "Cyber Smart".
---
The Atlanta Small Business Network, from start-up to success, we are your go-to resource for small business news, information, resources.

Follow us on Facebook here and stay up to date or catch-up on all our podcasts on demand.
While you're here, don't forget to subscribe to our email newsletter for all the latest business news know-how from Atlanta Small Business Network.
This has been a JBF Business Media production.