The United States is home to more than 164,000 miles of highway, enough to circle the planet over six times. But only 18 miles of it is trying to become the world's first sustainable highway. Today we speak to Allie Kelly, Executive Director of "The Ray", a section of I-85 in southwestern Georgia that has emerged as the country's most innovative and forward-thinking, environmentally-minded transportation project.
A Georgia native, Allie has spent her entire career working in public policy in both Washington D.C. and Atlanta. She has worked with various agencies and state leaders, and this is her 17th year as a sustainability advocate.
What is the Ray?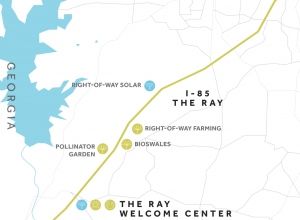 The Ray is a non-profit organization and an 18-mile stretch of Interstate 85.  After partnering with the DOT and the federal government, the Ray allows tech companies to try new things in a real-world environment. With fast speeds and access to a mixed vehicle fleet, the Ray is a living laboratory for new technology services and products to conduct research for transportation innovation.
Causing five million tons of carbon dioxide emissions nationally each year and 35,000 fatalities in 2015 alone, highways are one of the most environmentally damaging and dangerous infrastructure systems in the world. That's why The Ray has started a movement to make its 18-mile stretch, a net zero highway. Their vision for the future includes improving the safety, beauty and ecology of the highway in the following ways:
Solar-Powered Vehicle Charging
Tire Safety Check Station
Solar-Paved Highway
Smart Planting
Bioswales
Climate Modeling
Rubber Roads
To learn more about Allie and The Ray, click here. And don't forget to check out Allie's talk at this year's TEDxAtlanta conference next month.
---
The Atlanta Small Business Network, from start-up to success, we are your go-to resource for small business news, expert advice, information, and event coverage.

Follow us on Facebook here and stay up to date or catch-up on all our podcasts on demand.
While you're here, don't forget to subscribe to our email newsletter for all the latest business news know-how from Atlanta Small Business Network.
This has been a JBF Business Media production.