On August 1st, 2018, Google released an update for their algorithm, making it the third algorithm of 2018. Many in the SEO community are referring to this update as the biggest one since 2012's Penguin. The update was picked up all the search monitoring tools, as we saw a spike around the first few days of the month and the continued fluctuations that lasted a week. It was then named 'The Medic Core Algorithm Update'.
Usually, Google does not announce an algorithm update beforehand. However, this, along with the March 9th update, was announced prior to the update. It was a broad core algorithm, which is Google's attempt to move away from the major, irregular updates, such as Panda, Pigeon, Possum, etc. These larger updates have a tendency to send shockwaves through the content and SEO industry, which is possibly why Google is shifting away from them.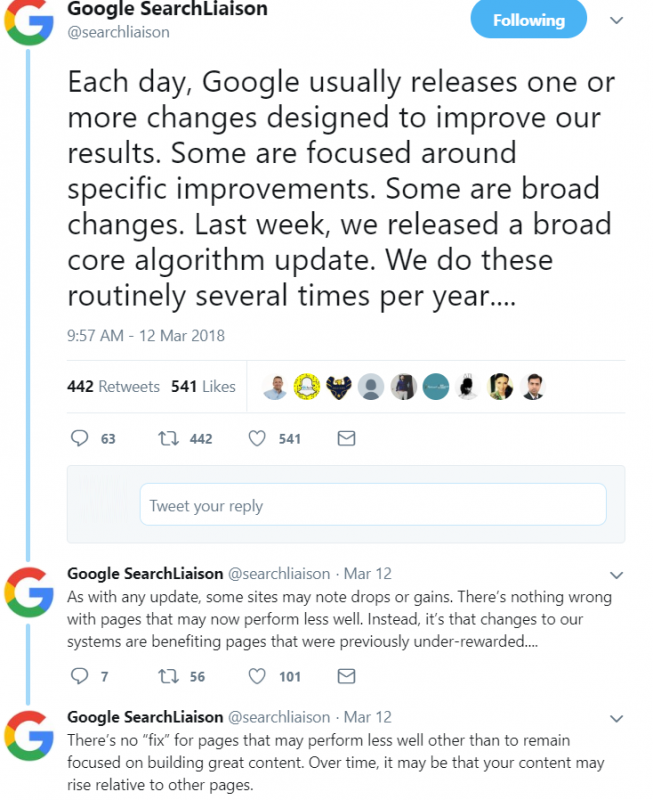 This update seems to have affected both the local results (i.e. maps listings) and organic search results. It has changed the local and organic ranking algorithms. One of the sectors that had the highest impact was the 'Your Money or Your Life' (YMYL) websites. YMYL pages include content that affects someone's financial stability, safety, happiness, and/or health. Though Google itself has not disclosed much information regarding this algorithm update, the SEO communities and forums have highlighted a few factors, which are mobile first-index, content and on-site linking, and site speed.
Many are concerned as to whether their website's ranking will remain the same. Before anything else, it's important to recognize that SEO and keyword research are not dead. They are just evolving into a new era that's driven mostly by voice search and mobile technology. According to HubSpot, 19% of people use artificial intelligence, such as Siri, to get their information.
Modern searches are based on the commonly asked phrases and questions. Thus, meaning that tools like SEMrush and Google Keyword Planner are still important to implement in your marketing research. Since more focus is starting to be on lifestyle and health issues, it might be why the new update is called the 'medic update'.
Some sites saw massive drops, but others saw incredible gains. The reason why some of the websites might have dropped in rating could be due to many things.
They might not have an about page – Google's QRG clearly states that it should be obvious to the consumers who are responsible for the information that is presented on a website. Clear information helps users to feel more comfortable in trusting a site.
Very little extra reputation – If your site sells a product, then it should have a really good reputation. If there is a lack of reputation, or a negative reputation (even if its mild) can be a sign of low quality.
The site may be advocating a treatment (medical) that is against the consensus – If you sell any health-related products that have a negative reputation or no backing, then you might find your ranking getting lower, then the algorithm might trust you less.
Google is not always forthcoming in ways that you can update or change your site to better suit the new algorithm. However, there are a few steps that you can take as a precaution and if you're looking to increase visibility and stay up to date.
Eliminate any errors your site has/may have – incl. duplicate images, links, etc.
Make sure that your website design is responsive
Ensure that your social media icons are placed in prominent positions to further encourage social sharing.
Aim to publish fresh, remarkable content at least once a week.
Include visual and video content in your blog posts.
Make sure to set up a Frequently Asked Questions (FAQs) page on your website.
Remain active on social platforms – incl. (but not limited to) Google Plus, YouTube, Pinterest, Instagram, and Facebook.
Reach your to subscribers with emails that include incentives and helpful information.
As we mentioned before, mobile first-index, content and on-site linking, and site speed were factors that were rewarded quite well with this update. So, with those factors, how can you avoid suffering from bad search results and less website traffic?
In terms of Mobile First-Indexing, any website that does not have a mobile version, not responsive, or they have a separate mobile site – will not be treated well under the new update. Various brands have been complaining this past month over their rankings, but more often than not, these brands do not have a correct mobile version. In addition to that, you should have clear information above the fold, not hide their content, and do not cover up the content with pop-ups.
Content is king, especially if you want to rank high on Google's search engines. Google has suggested that websites should have Expertise, Authority, and Trust (EAT) in order to rank well. Bloggers are likely to reference other websites quite often since they will be basing their opinions on other reputable sources. Whereas, legitimate medical professional won't need to as they are writing their opinions without needing to reference others.
Site speed and loading time have been important to Google's ranking scale for a long time. And now, more than ever, it's crucial in order to get good results. If a site had ranked at the first position even with poor site speed, that won't be the case anymore. Designers and SEOs should first and foremost look at the site speed when designing a website. You should include compressing images to be under 100kb, browser caching, and compressing code wherever possible.
Overall, this 'medic core' update seems to be geared towards making content more authoritative. It also enables users to have a better experience browsing on mobile with faster load times across devices. As ranking higher with a basic design and adding content has certainly made SEO harder than ever before. Though the health industry was the main focus of this update, all SEO professionals need to stay on top of their game. Otherwise, they might find the update having an impact on their websites.