The About page is one of the most important pages on any business website, but it often gets overlooked. After a company's homepage, the About page is typically the next place people visit to familiarize themselves with a business.
For small businesses, it's especially important because it's where new visitors go to learn more about who you are and what you do. It's also one of the first chances you have to make a good impression and build your credibility.
Whether you're a new small business or you simply want to improve your current website, use the following strategies to create a more effective About page that engages visitors and increases conversions.
Tell Your Story… Briefly
What do you do? How do you do it? Why do you do it? What makes you different from your competitors? These are the most important questions to answer on an About page, but many brands still fall short.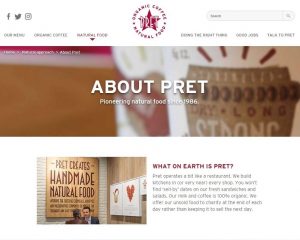 Your company story is important, but don't go into too much detail. Explain your history in a way that people can relate to, but avoid long, chronological descriptions that can be distracting. Your history will seem more interesting if you can make people relate to your struggles. Keep it concise and focus on the human side of your business.
Talk about Your Audience First
Remember that visitors to your site ultimately want to know how your business will benefit them. The most successful marketing copy is benefits-driven. In other words, it's not about the business – it's about how people will benefit from being the customer. Talk about what matters to your target audience, and say it early on. Start by highlighting the problems faced by your audience and how your business can solve them.
Show Your Personality
Small businesses have an advantage over larger organizations in that they can make their story more personal. By revealing the struggles you've faced as a business, you'll come across as more caring and approachable. Be more conversational, use friendly language, and don't be afraid to show your true personality.
Include Your Address and Contact Details
Building trust is key to moving visitors toward a sale, so your About page should include elements that increase your credibility. Displaying your address and contact information is a quick way to build this trust. You should also insert your social media handles so that people have another way to contact you.
Use Different Media Formats
Once people have found your About page, it's your job to capture their attention. Do this by using eye-catching photos, videos, and graphics that also help to highlight the personality of your company and its employees. Headshots of key team members will help to communicate your personality and add a more human element to your website.
Add Social Proof
The About page is a great place to insert customer testimonials. They're one of the most persuasive forms of copy for building trust with your audience. When possible, include the customer's name and other relevant details in testimonials to increase their credibility. Even better, add customer photos – if you have their permission.
Include a Clear Call-to-Action
While the About page is mainly about explaining to readers what you do and how people will benefit from doing business with you, it's also a prime location to convert visitors. What do you need people to do after visiting your page? Perhaps you want them to sign up to your newsletter or visit another page on your site.
It's up to you what you want visitors to do, but they won't take action unless you clearly tell them what to do next with a clear call to action (CTA). Make sure your CTAs are clearly visible and if possible, include a benefit in the text. For example: "Register for a one-month free trial."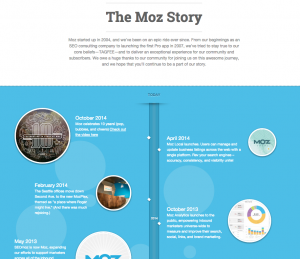 Keep It Consistent
Your About page should complement the rest of your website and other online content. Creating a consistent image is key to building brand recognition and appealing to your target audience.
Use the same format and visual theme as the other pages on your website, and keep your language and tone consistent. A consistent tone of voice will make your brand seem more trustworthy.
Wrapping Up
For some businesses, the About page is often an afterthought, but it deserves more attention. By using the strategies outlined here, you can ensure this important page supports rather than hinders your business.
There's no magic formula for the perfect About page, as every business is unique. Don't be afraid to tweak it over time so that it supports your evolving business and marketing goals. It's about finding the right balance between promotion and telling the story of your business. When you get it right, your About Page can inspire visitors and generate leads for your business for years to come.
---
The Atlanta Small Business Network, from start-up to success, we are your go-to resource for small business news, information, resources.

Follow us on Facebook here and stay up to date or catch-up on all our podcasts on demand.
While you're here, don't forget to subscribe to our email newsletter for all the latest business news know-how from Atlanta Small Business Network.
This has been a JBF Business Media production.