Digital transformation for this new decade and beyond will be the key differentiating strategy that will separate adopters from their competitors. The pace of change in our ever-increasing digital world is now exponential.  Forward-thinking organizations recognize digital transformation as being a long-term investment in their growth. A sound digital strategy will drive the product or service experience and will radically redefine how customers discover, perceive, use, and glean satisfaction from your core product or service.
Related: The Key to Building Strategic Partnerships
Recent studies estimate that global spending on the technologies and services that enable digital transformation will reach almost $2 trillion by the year 2022, with companies allocating 10% of their revenue to fuel their digital strategies. There are now new and exciting ways to engage with customers, bring more innovation to the workplace, and deliver opportunities to harness technology, improve operations, and of course enhance the bottom line.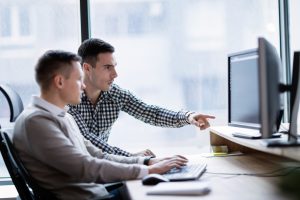 Now more than ever, an organization's digital strategies are fundamental to their growth. Whatever a company's vision is for their future, it must include an intentional digital transformation strategy if it wants to continue to grow. This reality can be a challenge for leaders within a business. With more business applications, more connected devices, and increased expectations, today's CIO must now operate at the same pace as the frontline of the business.

Related: So, You Have a Great Business Idea? What's Next?
What exactly is digital transformation? Digital transformation is a complete disruption of business as usual. It is not random, it is not incremental, it is an intentional complete and total strategic shift. Digital transformation has the disruptive power to dramatically improve processes, strategic partnerships, delivery channels, customer experiences, engagement and every facet of a company's product or service. One eye opening aspect of the power of digital disruption is that it can impact industries which are not organically digital if they intentionally choose to adopt a digital transformation mindset. The digital transformation mindset will usher in a groundbreaking strategic shift in how companies predict customer behavior and demand. The new normal will shift from reactive strategies to proactive strategies. No longer will companies ask how can we sell the products and services we produce? Digital transformation will enable savvy companies to ask forward thinking questions such as what will our customers demand next year, in the next 5 years or even 10 years down the road? Those companies will then allow market demand to drive what products and services they bring to market. This is a fundamental shift away from a products and services focus and more towards customer needs, demands and trends. Digital transformation will allow companies to deliver not only what customers demand but also when, where, and how. The new digital age is about innovation, connectivity, and customization of products and services. Companies will survive and thrive based on how rapidly and accurately they meet emerging customer demands relative to their competition. Digital strategies will also enable companies to assess ancillary needs around their products or services which will uncover even more ways to deliver additional customer value and further enhance the customer engagement experience.

Digital transformation is the wave of the future and it will be all about transforming the totality of the customer experience and will differentiate future market winners from losers. Digital transformation will rewrite the entire customer experience and that experience extends well beyond the product or service itself. The customer experience extends to branding, social media engagement, apps, aesthetics, packaging, customer service, and warranties. It is about everything that connects your product or service to the customer. The new business model will be simply be, innovate or evaporate. Winning strategies and digital transformation are indeed about choices and savvy businesses will choose wisely.
Did you enjoy this article from Mark Collier? Read other articles from him here.
---
The Atlanta Small Business Network, from start-up to success, we are your go-to resource for small business news, information, resources.

Follow us on Facebook here and stay up to date or catch-up on all our podcasts on demand.
While you're here, don't forget to subscribe to our email newsletter for all the latest business news know-how from Atlanta Small Business Network.
This has been a JBF Business Media production.