One of the biggest mistakes many entrepreneurs make is doing everything themselves. To solve this, they must hire and train the right employees, but this is an expensive venture. The other option is to outsource and leverage strategic business partners.
Regardless of what industry your business operates in, having an ally in the form of a strategic partner can significantly benefit your company and thus facilitate success.

Gaining new customers is one of the reasons for forming partnerships. But a good partnership will also give your business access to new products, a new market, block competitors and increase customer loyalty.
The key to building successful partnerships is to make sure they are built on trust, commitment, collaboration, and communication.
Here are five reasons why strategic partnerships are important for business success and happiness:
1. Attract New Customers and Expand Market Coverage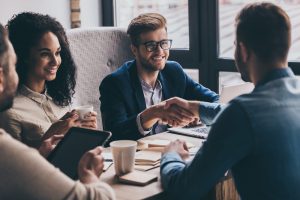 The most popular reason for venturing into partnerships is access to new customers and markets. By forming a strategic partnership, businesses can serve larger territories without investing more infrastructure or expanding their distribution network.

For example, a coffee delivery service can partner with an office supply company to deliver office supplies on their regular route in exchange for a presence in the office supply company's physical stores. Both companies will attract new customers and their market territories will expand without adding new stores or routes. This arrangement will offer their customers more value.
2. Overcome Business Fears
At some point, many entrepreneurs fear change and they worry about its impact on their businesses. These changes can either be market-driven, industry-specific, or regulatory.

Implementing business solutions with the help of a strategic partner can help reduce the impact of changes that might inhibit your business growth.
Related: Emotional Triggers That Can Make You Money
3. Strategic Partnerships Offer Your Business a Competitive Edge
"Two heads are better than one"; this is also true when building strategic partnerships. Working with a partner with a win-win approach can give your business the boost it needs to beat its competitors. If you work totally on your own, you risk your company's success becoming stagnant. And remember, a poorly thought-out partnership can impact your business negatively.
4. Broaden Your Product and Service Offerings
If you already have an existing customer base and you'd like to expand your product line, you benefit by aligning yourself with a firm that offers complementary products. 

For example, if you offer audiovisual services, you can partner with a company that provides computer services. Here each company has its own products, systems, and suppliers. But they have similar customer bases. By pooling your resources together and cross-training service and sales personnel, you can improve your product lines with minimal investment.
5. Strengthen Weaker Aspects of Your Business
It's clear that the benefits of strategic partnerships are many and diverse. A meaningful partnership can strengthen weaker aspects of your business, enabling you to grow and expand to an extent that would have been impossible on your own. 

Remember, there's strength in numbers and success comes when we work together. A worthwhile partnership is better than the sum of its parts, and together, you can reach new heights.
Did you enjoy this article from Dr. Felicia Phillips? Read other articles from her here.
---
The Atlanta Small Business Network, from start-up to success, we are your go-to resource for small business news, information, resources.

Follow us on Facebook here and stay up to date or catch-up on all our podcasts on demand.
While you're here, don't forget to subscribe to our email newsletter for all the latest business news know-how from Atlanta Small Business Network.
This has been a JBF Business Media production.